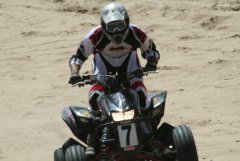 Create an account or sign in to comment
You need to be a member in order to leave a comment
Sign in
Already have an account? Sign in here.
Sign In Now
---
Similar Content

By Quadz4Life

Hey peps moneys tight for me. I have two young baby girls got to start buying Santa!
The Bars and clamp have never been fully mounted on a quad. Never had a wrench on them Period just finger tighten to get the feel see if it was ok. I bought both brand new. I have sold my quad now. Paid $400 just for the bars and I have all the elastomers to with bars. Paid $80 for the clamp.
Flex Bars with elastomers - $350
Houser Clamp - $65
Both Bars and Clamp - $400
Also I have Black and Red skulled riding gear jersey/pants $200 obo
And Fox Tracker Boots with rough terrain bottoms great condition size 14 $150 obo


By YFZ450

is there a big difference in the shock YFZ450 shock to the elka basic shock that has a rezzy or piggyback whats different about them?
I do alot of motocross the jumps arnt that big, the biggest one i hit is a about 60-70ft. but i bottom out im just wondering if the basic elka reg. travel shock thats triple rate is good enough or should i go with a more advanced elka shock thats triple rate and has a compression adjustment
I have +2 houser reg. travel a-arms


By Guest Fox300exchic

http://www.slyfoxmx.com/

By Guest Fox300exchic

http://shop.foxracing.com/ecomm/AutoForward.do?forward=home.pagedef&cname=MX&cid=5&menuId=MX@@@5&actuatorId=MX@@@5Actuator#aforward=asyn&cname=Clearance&cid=70008&menuId=Clearance@@@70008&actuatorId=Clearance@@@70008Actuator

By getdrunk

both used 1 time. Boots still need breaking in.