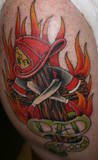 Create an account or sign in to comment
You need to be a member in order to leave a comment
Sign in
Already have an account? Sign in here.
Sign In Now
---
Similar Content

By sirdivealot

Hi folks, I am new to this forum and signed up hoping to get some advice as to what the problem is with the electrics on my timberwolf.
The quad is a 2000 4x4 model, just bought it on the cheap a few weeks ago with electric start and lights not working. The starter makes no noise and no attempt to start whatsoever when the button is pushed and the lights dont work at all. It has a battery that has charge in it, so dont know why it wont just run off the battery, could it be a fuse?
I saw a thread on here about electric start not working on a timberwolf, I got some info from that but think this problem may be different so thought I'd make my own thread.
Any advice would be appreciated
Cheers


By newguy

2002 Yamaha Wolverine 350....when i push the start button, the starter solenoid makes a strange vibrating/clicking noise. the start sounds as if it is trying to engage but doesnt. do i have a bad solenoid or is the starter bad??