Join Today, It's Simple and FREE!

As a member, you can post in our forums, upload your photos and videos, use and contribute to our downloads, create your own member page, add your ATV events, and even start your own ATV club to host your own club forum and gallery.  Registration is fast and you can even login with social network accounts to sync your profiles and content.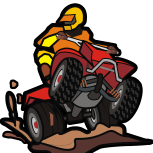 ---
Similar Topics

By jasongeary

I'm in southeast Idaho. Fall Creek area near Swan Valley is our go-to. Kelly Canyon area has some decent trails. I've heard there is good riding around Mackay and the Lemhis/Lost River range area but we've never ventured that far. Where do you ride around Idaho Falls?


By verve

Does anybody know of some great experienced rider trails in SW Idaho? I ride all the places everbody knows about, but I am looking for a new awesome trail to ride.


By JacobSlabach

i know this isnt an atv but same type of thing.  I have a riding mower im fixing and selling for my aunt and it has a dead battery.  i jumped it off my atv and when i turn the key nothing at all happens.  i tried jumping the relay still nothing.  this is with the seat down.  you wouldnt think this mower would have issues as its a top-of-the-line brand and almost brand new (aunt found it for a good price, still got tits on tires, just sat for a couple months in a mechanic shop


By ezduzit

picking up atv tomorrow, guys says motor is locked up. he thinks, anyway has been sitting for more than three years. Please understand i have not touched it yet but if his description is accurate im looking for suggestions on freeing it up before  having to tear it down. I'm hoping to get some great info from the pros on Quadcrazy.


By Guest Fox300exchic

Today I went riding and towards the end of the day my quad kept dieing while I was riding it. Just riding like normal and it would start to back fire and then die. Do I need to clean my carb or what?


Similar Tagged Content

Recently Browsing

0 members

No registered users viewing this page.