Do you own an ATV? Join our Forum!

As a member, you can post in our forums, upload your photos and videos, use and contribute to our downloads, create your own member page, add your ATV events, and even start your own ATV club to host your own club forum and gallery.  Registration is fast and you can even login with social network accounts to sync your profiles and content.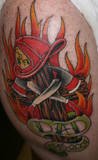 ---
Similar Topics

By ddiggerr

If you look at pic closely, you can see the frame has a slight twist in it. The handle bars have been leveled and now the motor is sitting higher on the right.
When it is sitting on all 3 wheels, the front is then lower on the right.
What I have done is already taken in to shop and heated and pulled the majority of the bend out, however, it doesn't quite straighten.
The down tube in front of motor looks as though it was broken by PO and welded. Should I cut this and attempt to take twist out, or do you think this is driveable the way she is?
The difference is about an 1/8" off level at the top of steering tube with bare frame on table, but looks worse when sitting on all 3.
Just looking for advise, before going any further.
Thanks




Similar Tagged Content

By Guest Fox300exchic

The Hop-Up: You may be saying to yourself, "that's a chick bike," and you're right. But honestly, it's so much more than that. It's one badass bike. http://www.quadmagazine.com/quad/features/article/0,24942,1587044,00.html


By alexcross324

Hi all, I try to find this manual in the threads but you have a lot of stock here
Cannot find this particular manual.
I found it for YFM200 but not sure if they are the same.
Thanks if you could help me with that.
Im new here so if I did something wrong, please tell me.


By dyyjrr9

I just got a 1991 Yamaha Moto 4 for my son and I am looking for a service repair manual. I know that the timing chain needs replaced.


Recently Browsing

0 members

No registered users viewing this page.