Join Today, It's Simple and FREE!

As a member, you can post in our forums, upload your photos and videos, use and contribute to our downloads, create your own member page, add your ATV events, and even start your own ATV club to host your own club forum and gallery.  Registration is fast and you can even login with social network accounts to sync your profiles and content.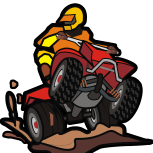 Up to $100 rebate on WARN Winches
---
Similar Topics

Similar Tagged Content

By Admin

Warn Industries offers the most trusted, recognized, and innovative winches on the market. Asked for by name and proven in the harshest environments worldwide, WARN winches are the only name to trust when it's all on the line. 
From April 1 through May 31, 2019, Warn Industries is offering to put cash in your hands and WARN winches on vehicles.

Whether you're looking for a Standard Duty VR winch, a Premium ZEON, the Ultimate Performance of the ZEON Platinum, or a Heavyweight series winch, you can get up to $100 cash back this spring. With a variety of features, capacities from 8,000 lbs. to 16,500 lbs., and legendary WARN durability, we've got a winch for just about every rig out there. 
If you're after a winch for your ATV or Side x Side, we've got a rebate for powesports vehicles, too. Get $40 cash back on our new line of state-of-the-art AXON winches and our high-performance standard-duty VRX winches. Both feature IP68 waterproofing, an array of features, and capacities ranging from 2,500 lbs. to 5,500 lbs.. 

Be sure you're ready to GO PREPARED this spring and equip your vehicle with a WARN winch. This is a limited-time offer, so don't delay—check out the details on warn.com and check out some of the Warn ATV winch lineup on Amazon.com


NAME PART NUMBER CASH BACK VR8 WINCH 96800 $50.00 VR8-S WINCH 96805 $50.00 VR10 WINCH 96810 $50.00 VR10-S WINCH 96815 $50.00 VR12 WINCH 96820 $50.00 VR12-S WINCH 97035 $50.00 ZEON 8 WINCH 88980 $75.00 ZEON 8-S WINCH 89305 $75.00 ZEON 10 WINCH 88990 $75.00 ZEON 10-S WINCH 89611 $75.00 ZEON 12 WINCH 89120 $75.00 ZEON 12-S WINCH 95950 $75.00 ZEON PLATINUM 10 WINCH 92810 $100.00 ZEON PLATINUM 10-S WINCH 92815 $100.00 ZEON PLATINUM 12 WINCH 92820 $100.00 ZEON PLATINUM 12-S WINCH 95960 $100.00 16.5TI WINCH 68801 $100.00 16.5TI-S WINCH 97740 $100.00 M15 WINCH 47801 $100.00 M15-S WINCH 97730 $100.00 M12 WINCH 17801 $100.00 M12-S WINCH 97720 $100.00  
NAME PART NUMBER CASH BACK AXON 35 WINCH 101135 $40.00 AXON 35-S WINCH 101130 $40.00 AXON 45 WINCH 101145 $40.00 AXON 45-S WINCH 101140 $40.00 AXON 45RC WINCH 101240 $40.00 AXON 55 WINCH 101155 $40.00 AXON 55-S WINCH 101150 $40.00 VRX 25 WINCH 101025 $40.00 VRX 25-S WINCH 101020 $40.00 VRX 35 WINCH 101035 $40.00 VRX 35-S WINCH 101030 $40.00 VRX 45 WINCH 101045 $40.00 VRX 45-S WINCH 101040 $40.00   POWERSPORT WINCHES REBATE FORMS
CONSUMER REDEMPTION FORM
   


By Vertigo

My non-running '08 450 hour 1450 mile 450 grizzly investment paid off! I paid a buck per cc...yup, $450.
It smoked mosquito-fogger bad, was missing starter solenoid, a fuse, racks and a few small plastics, needed a rear ujoint, a brake caliper and lever. Popped in the fuse, plugged in starter solenoid and a carb clean out came next.  After an oil change, seafoam treatment, and reseating rings by very hard and hot riding towing a 5' disc for two hours, it completely stopped it's bad habit! Changed oil and filter again (went synthetic), and have put a hundred hours of trail-busting and mountain climbing, everything is working perfectly, and not using any oil.

My current task is to repair the winch, if possible. It was crammed jam-packed full of dust, rust, and mud.
I disassembled it, cleaned it completely, found nothing overtly appearing broken, but it feels like the knob for freewheel/engage is "sticky".
I mean, REALLY sticky-the Mitsubishoid rhombus-triad looking mechanism appears to not release, unless I pull or tap on it.
I've not yet reassembled it, want to find out if the disengage action is normally this "sticky".

Anyone have experience with this? How about a schematic, or manual?


Recently Browsing

0 members

No registered users viewing this page.