Do you own an ATV? Join our Forum!

As a member, you can post in our forums, upload your photos and videos, use and contribute to our downloads, create your own member page, add your ATV events, and even start your own ATV club to host your own club forum and gallery.  Registration is fast and you can even login with social network accounts to sync your profiles and content.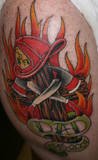 Remind me never to Steal anything in Africa
---
Similar Topics

By PKR

Neighbor dropped off his 2010 Ranger 400 HO. Said it was missing and backfiring. I replaced the plug as it was carboned up (kids use the side x side for chores and it is only idled around yard) Unit ran great, sent back home and it ran great for about 5 hours of run time and then it wouldn't start. He brought it back and I changed the plug again and it would start but would not run great. Pull plug and it was really wet. I suspect the carb needs cleaning and that is the direction I plan on going unless someone else knows anything about these units. ( I have never worked on one of these).
If you know of something else I should check let me know.
Also I am looking for a service manual for this unit.
Thanks
PKR


By ATVNetwork

South of the Border MX (SOBMX) in Hamer, South Carolina, set the stage for round four of the AMA Pro 2019 ATV Motocross National Championship (ATVMX) Series, an AMA National Championship.
View the full article


By Ajmboy

Many towns and government agencies have ATVs in their fleet. If you see some and take a picture, please post. I posted a couple in the gallery section of the Sheriff's Polaris ATVs. Pretty cool setup.
 


By ATVNetwork

The 2018 ATV Motocross National Championship presented by CST Tires, an AMA National Championship, headed to South Carolina this past weekend, March 24-25. South of the Border Motocross (SOBMX) would play host to its first ATVMX National event, but after a cold front took over the east coast the warm temperatures riders had hoped for were nowhere in sight.
View the full article


Similar Tagged Content

By atvredefined

sup guys, jus curious if anyone knows how to coat bare metal. what would i use to prevent rust w/out having a griesy residue? will any clear paint stick? i want the polished metal to show. cant afford a durablu at the time!


By Ajmboy

Check this site out..I just saw a thread on another site about this guy...
Welcome to www.quadsacrossafrica.com



By Guest Fox300exchic

A friend sent me this...its a live video from Africa.
http://live.wildlife.wavelit.net/451OK


Recently Browsing

0 members

No registered users viewing this page.