Do you own an ATV? Join our Forum!

As a member, you can post in our forums, upload your photos and videos, use and contribute to our downloads, create your own member page, add your ATV events, and even start your own ATV club to host your own club forum and gallery.  Registration is fast and you can even login with social network accounts to sync your profiles and content.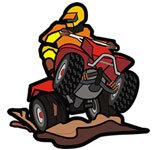 ---
Similar Topics

By Aleksandr Boreesenko

doesn't idle at times but sometimes when it does as soon as I touch the throttle it just shuts off, what could possibly be the problem? I thank you very much for any help, Thanks.


By BuckBilly

Good morning to all !!!!!!!!!!!!!!!!!!!!!!!!!!!!!!!!!!!!!
Let's see if we can make this a daily event.


By Karen McDowell

Went to change oil and get my sons  2000 Suzuki King Quad 300 ready for spring and found the left front wheel wont move at all but the right does. Doesn't matter if it's 2 or 4 wheel drive same issue. Nothing looks bent, tie rod ends and ball joints in place jacked it up and shook wheel and bearing seems tight. Any ideas before I tear the dang thing apart?  Of course my son has no idea what happened.  


By Ajmboy

Tonight is the first presidential debate and it should be a record breaker for viewing. Might as well have a mini poll here on QUADCRAZY to see how they stack up. Make your choice in the poll and feel free to comment in this topic. I'm going to pin this topic and keep it going through the elections in November. 


Similar Tagged Content

Recently Browsing

0 members

No registered users viewing this page.