Do you own an ATV? Join our Forum!

As a member, you can post in our forums, upload your photos and videos, use and contribute to our downloads, create your own member page, add your ATV events, and even start your own ATV club to host your own club forum and gallery.  Registration is fast and you can even login with social network accounts to sync your profiles and content.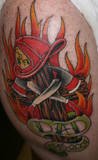 When the Wife doesnt listen
---
Similar Topics

By Karen McDowell

Went to change oil and get my sons  2000 Suzuki King Quad 300 ready for spring and found the left front wheel wont move at all but the right does. Doesn't matter if it's 2 or 4 wheel drive same issue. Nothing looks bent, tie rod ends and ball joints in place jacked it up and shook wheel and bearing seems tight. Any ideas before I tear the dang thing apart?  Of course my son has no idea what happened.  


By gyminis

i have a 2009 grizzly 700,replaced the fuel pump and filter,replaced the spark plug and checked the air filter for a mouse house! it runs then shuts down,wont stay running,does the fuel line need to be primed and air free to run properly or am i missing something obvious??????????????


By Jw7054

So I went through the top end and then put everything back together and did break in and then probably 3-4 rides. Now my start button doesnt work but i can jump the solenoid and it starts right up. I looked for bad connects and didnt see any. I then replaced the coil and got nothing. So before i blow more money on something i dont know if it will work, i would like your guys opinion on what it would be. Thanks. Oh and it is a suzuki 160 '91


By WeeksRob4x4

So I bought my first quad for 300 bucks. It looks to be in good shape and everything is there. The starter is cracked, so I got a new one on the way. Impatiently I have been pulling on the string and it fired up today and ran for a couple of minutes. It sounded great, but when I attempted to throttle it up and turn the choke down it stalled and did not start back. It made somewhat of knocking noise for a few turns after the stall. Sounded like it was possibly flooded with fuel. After letting it sit for little while the noise stopped while pulling it but the engine never started again. My arms could not take anymore pulling for one day. I was told the quad has set for about 2 years. So I am concerned the carb could be gummed up. After everything so far do you guys think im on the right track? Should I pull the carb off and clean it or does the 2 minutes of run time tell me that its probably ok? If I remove the carb how does the choke cable come off the carb? Im an automotive mechanic by trade but new to the atvs. Any help to get this thing running so I can hit the trails sooner would be great. Thanks


Similar Tagged Content

Recently Browsing

0 members

No registered users viewing this page.