Do you own an ATV? Join our Forum!

As a member, you can post in our forums, upload your photos and videos, use and contribute to our downloads, create your own member page, add your ATV events, and even start your own ATV club to host your own club forum and gallery.  Registration is fast and you can even login with social network accounts to sync your profiles and content.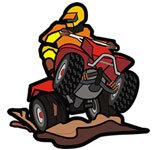 Do you use "LIVE CHAT"?

11 members have voted
---
Similar Topics

Similar Tagged Content

By Guest

A few of us are in the room now and noticed the "Docking" section way to large when you activate it.
Also, there's no way to "dock" multiple cameras in the "Docking" section.
Normally, there's a "dock" button under the user's camera when viewing it to put it in the "Docking" section....but neither of us see it....
Just some thoughts...
-TomD


By trailblazer_02

we can use this thread to set up a live chat meeting.
i propose thursday at about 4:00? 4:30? pm.


Recently Browsing

0 members

No registered users viewing this page.