Do you own an ATV? Join our Forum!

As a member, you can post in our forums, upload your photos and videos, use and contribute to our downloads, create your own member page, add your ATV events, and even start your own ATV club to host your own club forum and gallery.  Registration is fast and you can even login with social network accounts to sync your profiles and content.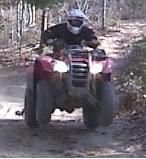 ---
Similar Topics

By Daniel Gibson

Have a 08 raptor brought to me a couple months ago. Got it on a trade for house remodel. Bike has around 30 hours. No that's not a typo thirty verifiable hours. The main Yamaha tech has put hands on this bike. Always Been reallyhard to start. If it does it runs really good. That's the kicker...IF! It started out intermittent now it's no spark at all. Everything ignition related is brand new. It all checks out good but still won't do it. Please help
 


By Christine Kiffer-Meany

Hey everyone...does anyone know if tie rod sets for a Honda 250 will fit a 125? My son just snapped the tie rod end clear off. We have a 1987 Honda fourtrax 125. Just want to make sure before I order the set off eBay. Thanks


By matthew smith

I have a honda recon 250 that i just bought. the compression is around 90 needs to be rebuilt. im getting into rebuilding it took apart the top end no problem except for the cylinder walls. as shown in the pictures. the way the piston sits in the cylinder is if you were sitting on the wheeler the skirt on the piston is left to right. so the wrist pin is front to back. which is where the two marks are in the cylinder. so that means the connecting rod is making the piston slap the cylinder on the wrist pin side which seems like a weird way for the cylinder to be moving. not natural. now the connecting rod has slight play left to right but not up and down. ive talked to a few people they say it might be the roller bearings in the connecting rod where it meets the crankshaft. but the play it has is not that much. im just looking for some more input before i start splitting the case. 






By northernmi

View File 1985-86 Honda ATC 350X Service Manual
1985-86 Honda ATC 350X Service Manual
Submitter northernmi Submitted 03/16/2020 Category Honda ATV  


Similar Tagged Content

Recently Browsing

0 members

No registered users viewing this page.