Do you own an ATV? Join our Forum!

As a member, you can post in our forums, upload your photos and videos, use and contribute to our downloads, create your own member page, add your ATV events, and even start your own ATV club to host your own club forum and gallery.  Registration is fast and you can even login with social network accounts to sync your profiles and content.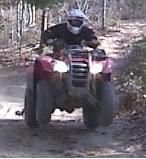 ---
Similar Topics

By StolenATV

Someone rolled the ATV away from my apartment and I haven't seen it since. It had a blue subframe. SS rims and a mossy oak camo vinyl wrap. No telling what it's like now.
The post Honda TRX450R 2005 Stolen appeared first on STOLEN 911.
View the full article


By Chase Cook

Hi I have a 1991 Honda trx200d type 2 ATV and need to know how to adjust the valves on there. The valve adjustments are on the side of the head and looked up videos in there is no videos at all on how to adjust them. I'm taking the head back off to adjust the timing because it's making good spark and getting gas but it's not firing, trying to start but I'm thinking it's because of the adjustments are way out of  line. And I didn't take a picture of how they were before I took the head off.


By bellssn690

Hello all. I'm a new owner of a like-new 2013 Rancher. I'm hoping to get enough information to keep/maintain my new atv. It's in great condition but I've noticed that it wants to die after running great for a while and I come to a stop. It's like it chokes itself out. Not sure why but it'll start up again but it's in such nice shape I want to make sure I keep it that way. Thanks for any advice and help in advance.


By Bleuu

Hello so I'm new to the atv seen, and was wonder why my stock light didn't turn on , and it figures that the black and white wire and the black wire were ripped apart everything else is connected fine, what could to reconnect them


Similar Tagged Content

Recently Browsing

0 members

No registered users viewing this page.