Do you own an ATV? Join our Forum!

As a member, you can post in our forums, upload your photos and videos, use and contribute to our downloads, create your own member page, add your ATV events, and even start your own ATV club to host your own club forum and gallery.  Registration is fast and you can even login with social network accounts to sync your profiles and content.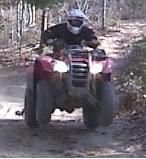 ---
Similar Topics

By JacobSlabach

recently picked up some project bikes off CL for cheap.  got a honda fourtrax (the ancient 4x4 kind with the straight axle in the front as well as the rear and a back-up kick-start)  plastics are crap, but my goal is to get running like a champ and patch the plastics up and sell to one of my many friends that want a reliable 4x4 for dirt cheap and doesnt care what it looks like.
so the former owner says it needs carb rebuilt, but its sat for 3+ years since so who knows.  things I see:  carb is missing (he gave me a box of parts along with the bike), engine turns over and feels good with kick-start, brakes need work, battery missing (That always puts me off, cause then I know most likely someone's been tampering with the electrical.


By Gary Patch

hi have really old Honda 4x4 how do I find out model no  etc as need new starter motor think its 350 cc but not sure thanks in advance


By 2urb0liter

Looking for front wheel assembly (hub, axle, rim, tire) for 1982 Honda ATC 110. 
Let me know what you have and how much shipped to 58504. 
 
Thanks!


By Tiffany Rowland

I am working on a Honda sportrax I just got my daughter for get birthday and the reverse and neutral light are not working. When I traced the wire down I saw that it wasn't plugged in but I don't see where it is supposed to connect. Does any one have a general idea of where I should look?



Similar Tagged Content

Recently Browsing

0 members

No registered users viewing this page.