Do you own an ATV? Join our Forum!

As a member, you can post in our forums, upload your photos and videos, use and contribute to our downloads, create your own member page, add your ATV events, and even start your own ATV club to host your own club forum and gallery.  Registration is fast and you can even login with social network accounts to sync your profiles and content.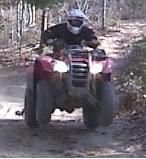 ---
Similar Topics

By Dee Morris

I bought my big bear in 2009, never had a bit of problem with it until last year. It quit starting but still would click when I tried to start it. I replaced the solenoid, the cdi module ( it was burned on one corner) and this year replaced the battery. I have all lights but still will not start and I do not have the clicking when I try to start it. Can anyone give me any ideas what to try next? I haven't had any luck finding videos about the 2008 Big Bear. I'm trying to avoid the expense of sending it to the shop. 


By Randy1951

Quad starts fine and revs fine in my back yard. On a test ride it falters badly. No power. I have cleaned and rebuilt the carb, cleaned the fuel tank, installed new fuel filter, changed fuel line and cleaned the air filter. Any help would be appreciated.


By Erik Plug

Hi all,
 
Picked up my first Brute Force yesterday. What should have been an awesome afternoon of riding turn a bit into a deception. As I was unable to really take it out for a test drive at the shop, I decided to buy it and agreed that I would take the test drive at home. 
When giving full throttle I noticed that the Brute was choking and lost all of its powers. Faulty fuel pump most likely. 
Called the shop and the are coming to pick it up and repair it and bring it back. Good service. Nevertheless feels a bit sour in the mouth as I was told it was a 100% good. 
Need to have some patience I now before I can really start riding. 
Cheers,
Erik


By Trent Finnessey

So I'm 14 years old right now..... I'm a pretty good rider for my age, I have a 98' 300ex that I'm tryna sell. I'm thinking of a 400ex or should I skip the 400 and just go to a 450r or something along those lines? 


Similar Tagged Content

Recently Browsing

0 members

No registered users viewing this page.