Do you own an ATV? Join our Forum!

As a member, you can post in our forums, upload your photos and videos, use and contribute to our downloads, create your own member page, add your ATV events, and even start your own ATV club to host your own club forum and gallery.  Registration is fast and you can even login with social network accounts to sync your profiles and content.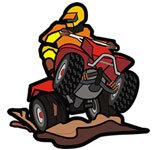 ---
Similar Topics

By quadcrazy

If you are a new member, why not introduce yourself? This community thrives and grows with you and all our current members! We all want this community to grow and encourage new member registrations. That being said please help out QuadCRAZY by inviting other atv'ers to the community.
QUADCRAZY NEEDS YOU!


By Panupong Pradchaphet

I have a 2018 Sportsman 450 HO.  I use it primarily for hunting and riding in the mountains of WV.  I am really interested in the Hatfield and McCoy trail system in WV.  Does anyone have a recommendation for a beginner to intermediate trail to explore?


By Sand Rider

I have a wrecked KFX 700 atv and am looking for a specific part that I don't know the name of. It is used to mount the headlights and attaches to the front of the quad. Any help identifying the part so I can purchase one would be greatly appreciated.




By Chris Simpson

Got a 99 or 2000 bayou 220. Its started making alot of noise, then the starter would spin freely. Took it apart and determined the three bolts in the starter clutch had sheared. Installed the new starter clutch and in the process, not realizing that Japanese motors turn counterclockwise, I turned the crankshaft clockwise about a half revolution so that the key holes would be on top of the crankshaft for easier installation of starter clutch. I get everything back together and try it. The pressure is so great that its very hard to pull with the pull start, the electric starter turns it over but it struggles greatly. A key issue could be this. When I engage the choke the starter will barely turn it over and you can't pull start at all because there's so much pressure. Like the back pressure cant be released once the carburetor is choked. I'm pretty sure by turning the crankshaft clockwise I screwed something up but I cannot figure out what it is. If there's anyone that can give some advice it will be greatly appreciated.


Similar Tagged Content

Recently Browsing

0 members

No registered users viewing this page.