Join Today, It's Simple and FREE!

As a member, you can post in our forums, upload your photos and videos, use and contribute to our downloads, create your own member page, add your ATV events, and even start your own ATV club to host your own club forum and gallery.  Registration is fast and you can even login with social network accounts to sync your profiles and content.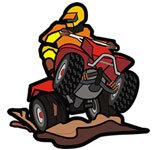 ---
Similar Topics

Similar Tagged Content

By Bubba Blaster

Hi there, new owner to a Bayou 220 and could use some input from those who have owned these. At idle only, I am hearing a distinctly noticeable amount of chatter noise coming from the lower right side of the engine - right in the the clutch housing area. It's like a light clanking sound like something is loose in there. It goes away as soon as you give it throttle. Shifting in and out of gear is smooth and there is no change in the noise if you have it in or out of gear. The clutch doesn't slip at all, it's just that noise. I can also feel it when my hand is on the the clutch housing.
I just replaced the oil and filter with 10w30 motor oil per spec. Any thoughts?


By Guest Fox300exchic

The Hop-Up: You may be saying to yourself, "that's a chick bike," and you're right. But honestly, it's so much more than that. It's one badass bike. http://www.quadmagazine.com/quad/features/article/0,24942,1587044,00.html


By Guest Fox300exchic

If we had a dollar for every time the question "Which is really faster, the 700 or the 450?" shows up in our inbox, mailbox, or voicemail, we'd be putting this magazine together from a bungalow on a barely inhabited tropical isle named Quadhama.
http://www.quadmagazine.com/quad/features/article/0,24942,1603755,00.html


By WCRTeam

YFZ450 KFX450 Videoclip sand pit.
[ame=http://www.youtube.com/watch?v=o7-G1XtovJw&list=HL1348537580&feature=mh_lolz]KFX 450 YFZ 450 WCR - YouTube[/ame]


Recently Browsing

0 members

No registered users viewing this page.