Do you own an ATV? Join our Forum!

As a member, you can post in our forums, upload your photos and videos, use and contribute to our downloads, create your own member page, add your ATV events, and even start your own ATV club to host your own club forum and gallery.  Registration is fast and you can even login with social network accounts to sync your profiles and content.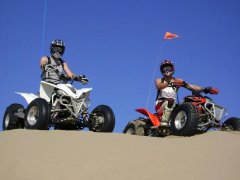 Oregon Sand Dune Video in HD
---
Similar Topics

By JacobSlabach

So I have rebuilt two top end's now and going through the process of a third.  I'm confused about how high the compression should be on these atv engines, and if low compression, what should be replaced or checked and how?  And as far as smoking, how to tell what is the issue there as well.  The first rebuild i did was on a kawasaki 300 and it turned out ok...  I realize that I adjusted the valve clearance on the exhaust stroke rather than the compression stroke which caused a tick.  nut the thing that got me was one both rebuilds, the compession reading didnt really change that much.  I've heard that engines should have over 100psi compression, yet have never seen 100psi reached on my tester by any engine.
this thread is open to any top end questions btw.


By 06kfx440

. That's 2 7 20
 
 
Sent from my iPhone using Tapatalk


By chuckufarlie

New to atving and just found this forum. Anyone else from the GTA or Southern Ontario in here?


By MarkinAR

So just as a general FYI, it might be good to check replacement parts before installing.  If possible, check clearances with a micrometer before going through the trouble of assembly.  I say this as I bought a new driveshaft yoke for a Kodiak because the ujoint dropped a cap and got the yoke in a bind...blowing the yoke and middle drive gear to shreds.  So I replaced the middle drive gear and bought a new yoke and ujoint kit from Caltric.  Caltric is usually pretty solid replacement parts.  The new yoke however was a good 4mm too narrow for inside lock ujoint caps.  Disappointing since it came as a kit from Caltric.
Ended up taking an angle grinder to the new yoke and thinning material off to get it to the needed 41.25mm opening size.  Sucks having to disassemble everything again and start over but my fault for trusting replacement parts.  Nearly 40 years of turning wrenches and I made a rookie mistake.


Similar Tagged Content

Recently Browsing

0 members

No registered users viewing this page.