Join Today, It's Simple and FREE!

As a member, you can post in our forums, upload your photos and videos, use and contribute to our downloads, create your own member page, add your ATV events, and even start your own ATV club to host your own club forum and gallery.  Registration is fast and you can even login with social network accounts to sync your profiles and content.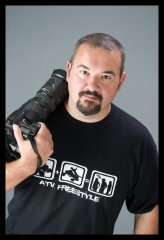 ---
Similar Topics

By ATVNetwork

Introducing the 2020 Yamaha XT-R editions of ATV and Side-by-Side vehicles featuring exclusive XT-R features like a factory-installed Warn Winch, advanced suspension, special-edition paint and color-matched wheels with extreme terrain tires, all Assembled in the USA for unmatched Proven Off-Road capability, comfort, and confidence. 
YXZ1000R SS XT-R: https://yamaha.us/yYXZXTR 
Wolverine X2 XT-R: https://yamaha.us/yX2RSXTR
Wolverine X4 XT-R: https://yamaha.us/yX4XTR
Grizzly EPS XT-R: https://yamaha.us/yGrizXTR
 
 

View full post


By Asen_77

Hi All,
Want to show you one automotive show that I filmed in my town called Crazy Race. This was two day race in Qualifications round, Semifinals and Final. In this 4 parts I am showing best moments from all rounds and entertainment of the show.
Crazy Race Part 2 contains a qualifying round where all riders race against each other, selected by lot and split by two. They are free to drive in any direction and to hit their opponent's car everywhere except at the driver's door. Anyone who intentionally hit the other car in the driver's door is disqualified. Winner of each race continue in the semifinal round. In this part I will present the best moments of the qualifying round! 
 
Part 3 shows you the best moments from Day 2 - Semifinals and Final. Battles in the semifinals are among the winners of the first day races, but this time they are selected by lot and divided into 4 battles of 4-5 cars each. The rules in each battle are that they only have to drive in one direction and try to neutralize other opponents until there are only two players left. Then the battle between the two last drivers has the rule to drive in any direction until only one who has qualified for the final round is left. Again, anyone who intentionally hit the other car in the driver's door is disqualified.
For the final round there were only two cars left, because the other two players who got the right to be there had problems with their car and could not participate.
 
Part 4 containing entertainments between battles and winners rewarding.
This event will have second round in 05-06 October 2019 and also will be filmed  For this new round I will filmed in many new angels and places. Will prepare a lot more videos and many new entertainments . This 4 videos was my first try so many things to wish for better filming in the future one.
Hope you will like them and of course feel free to comment and to ask everything. Hope you will Subscribe to my channel and to be first to see my other content and of course new round of Crazy Race! Thanks!


By Guest

It seems like a gas problem but I've changec, fuel injector, gas cap. I have lots of fuel pressure but after four wheeler has run for 20-30 min I have no power and sometimes stalls and won't start. Any ideas?


By Brian Simmons

A buddy of mine . had a friend redo his top end . It was running great  . then it like locked up  but then it started again !!! then it seemed like it locked up again ??? Could he have done something wrong  ??? Could it be bad ??? Please let me know what you think it could be ??? Please help !!! i want to know how much it will cost to fix or if he should part it out ???
PLEASE HELP !!!


By Tahj

I am looking to see why my 2005 Grizzly  660 won't crank. I have set the valves but suspect a loose timing chain.
When working to remove the valve cover I found a "cap tensioner case" - parts #25  - #299 on Babbitts site.
The  cover seems to bridge the valve cover and the cylinder head. What the hell is it and what surprises will I  find if I remove it?
Uncharted territory for me.


Similar Tagged Content

By mikeexplorer

Wiring diagram for 2007 Arctic Cat 700 EFI 4x4
 
 


By Guest Fox300exchic

Indicators that tell you to check your toe-in.

By pickytar

I have a Chinese Hybird 250 or that's what I was told it was. I found 17 numbers on the frame. Will these numbers tell me exactly what it is that I have? (I know that its a 2006 from a plate on the front)


By buzzar56

I am looking for a free repair manual for a 2003 Polaris sportsman 500 ho atv. all the posts on here lead me noplace
thanks fred.


By txlora84

I have a 110cc atv not sure of a brand its a Chinese model. I put on a new harness with cdi solenoid and all those. I have put a new starter on, and carburetor. I bypassed the start button cause it was just making the solenoid click. with the new button switch the atv will crank but not start. I tried to jump the solenoid and it did nothing. I am stumped. also I noticed gas leaking from the carburetor and when I took the filter off there was gas in it. I cleaned the carburetor and nothing was stuck or clogged. can someone help me out.


Recently Browsing

0 members

No registered users viewing this page.