Join Today, It's Simple and FREE!

As a member, you can post in our forums, upload your photos and videos, use and contribute to our downloads, create your own member page, add your ATV events, and even start your own ATV club to host your own club forum and gallery.  Registration is fast and you can even login with social network accounts to sync your profiles and content.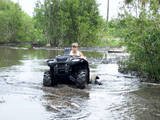 ---
Similar Topics

By Harold Wallace

i wired to the winch feed that comes right from the battery. i went throuhg the switch to the light bar with AND without a relay. both time i get code C1326 on the dash and loose my EPS. what am i doing wrong? should i be feeding the bar and switching to ground? i just installed a new battery the dealer said will fix it and same problem C1326. $120 wasted again at the dealer. why can't i talk with the mechanics at these places? sales people know little about the new machines and just smile at my wallet.brand new machine by the way too.



By JacobSlabach

i know this isnt an atv but same type of thing.  I have a riding mower im fixing and selling for my aunt and it has a dead battery.  i jumped it off my atv and when i turn the key nothing at all happens.  i tried jumping the relay still nothing.  this is with the seat down.  you wouldnt think this mower would have issues as its a top-of-the-line brand and almost brand new (aunt found it for a good price, still got tits on tires, just sat for a couple months in a mechanic shop


By Ajmboy

Just got this one and am sharing...

Visit 4wheelparts.com Use Code: POLARISORV at checkout *Exclusive offer ends 6/17/19 at 11:59 pm CT


By Jeni Lynn

2012 Rancher ES-- only when driving in 4x4 when I get to about 15-18mph there is a loud clunk in the front end and a hard downward jerk. Its almost as if its trying to downshift itself. It doesn't do it in 2 wheel drive.  I have checked the angle shift sensor and applied dielectric grease to it, changed the front end differential fluid (the old still looked good and clean) checked and adjusted the clutch. Hopefully someone can give me some more ideas. 


By Guest Fox300exchic

Today I went riding and towards the end of the day my quad kept dieing while I was riding it. Just riding like normal and it would start to back fire and then die. Do I need to clean my carb or what?


Similar Tagged Content

Recently Browsing

0 members

No registered users viewing this page.