Do you own an ATV? Join our Forum!

As a member, you can post in our forums, upload your photos and videos, use and contribute to our downloads, create your own member page, add your ATV events, and even start your own ATV club to host your own club forum and gallery.  Registration is fast and you can even login with social network accounts to sync your profiles and content.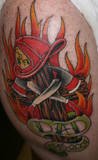 Knowing when the love is fading
---
Similar Topics

By Dimelol

I have been working on my quad for a while trying to get it running right. It seems as if I run into a new issue as soon as I resolve the old one. Anyway, the other day I went to fire up my quad and the battery was completely dead. I knew it was on it's last leg, so I went ahead and swapped it out think it was the issue. After sitting for a couple of days without running the machine at all, the new battery was drained as well, not completely dead like the old one but weak enough not to turn the engine over. When I removed the new battery to put it on the charger I noticed a clicking sound when I was removing the negative connection. After fooling around with it for a bit I tracked down where the sound is coming from (see pic) it was also warm to the touch. I have no idea what this thing or or what purpose it serves but should it be clicking as soon as I connect the battery? Could this be the cause of my battery being drained? Thanks for the help, I'm not the most experienced when it comes to tracking down electrical issues.



By neo71665

I was given a 93 bayou 400 that has been sitting in a barn since some time in 94, hardly any use. The story behind it is the owner poured some gas out of a can full of trash and stopped the carb up. His meth head son took the carb off to rebuild it and got locked up, carb lost in the wind. The bike has been sitting covered ever since. The front rack and bumper has been misplaced but the rest of the bike is there and after washing off some dust it looks like a brand new bike. Still has the little tits on factory dry rotted tires. The old man is supposed to look for the missing parts but I don't have high hopes of them turning up.
Just ordered a carb for it and now looking for missing front pieces. My main question is how much in common does the 400 share with the 300? Seems locally the 400 bayous are as rare as unicorn tears but I find 300 parts bikes all over for next to nothing. I looked on fleabay and seems most of the racks and bumpers on there look like they have been in a demo derby and cost way more than I'm willing to spend for something all beat to crap. If I knew the 300 stuff would indeed work I can pick up a whole bike minus the engine locally for $50. 
Not tying to do a pebbles beach restro but just a nice atv we can work around the farm on while spending as little as possible. Most likely throw some 26's under it and also let dad deer hunt off it.


By StolenATV

Stolen out of my garage while I was home along with two Trek Mountain Bikes. VERY gently used. Low miles, around 200. Forest green. Very good condition. Never mudded.
The post 2006 Family Honda Foreman 4×4 Stolen. Forest Green. appeared first on Stolen 911.
View the full article


By Txbigbear

Helping my Father-in-Law get his 1987 (I think) Big Bear 350 running so he can sell it. I can't get it into neutral (or don't know how) so I can pressure wash it before starting repairs. See photo. Clutch is hard to operate. I clicked down on the shift pedal to what I think is 1st then pulled up one click, but it's still in gear. The brake drum is stuck and the electrical system needs tracing out.
How can I get it in neutral or just get the wheels rolling?



Similar Tagged Content

By WCRTeam

New atv Edit - we love atv 2015
Plz like and subscribe in youtube
[ame]
[/ame]

By Ajmboy

I posted this pic a while ago in a contest....

Use to be something....

For all you "Love Bug" fans: LoveBugFans.Com


Recently Browsing

0 members

No registered users viewing this page.