Do you own an ATV? Join our Forum!

As a member, you can post in our forums, upload your photos and videos, use and contribute to our downloads, create your own member page, add your ATV events, and even start your own ATV club to host your own club forum and gallery.  Registration is fast and you can even login with social network accounts to sync your profiles and content.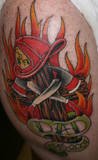 ---
Similar Topics

By CunningStunt

I purchased the manual - the 98-02 manual in the downloads section is not correct - the manual on that link is for 2003+
 
I purchased and downloaded it, but it exceeds the 100mb threshold for me to share with the forum, so please advise how you would like to proceed - i can link you to my Google drive and if you have the capability to upload it or whatever.


By toonces

My mother has just developed a fairly serious case of sciatica, which is a condition where you have some serious leg pain as the result of a pinched sciatic nerve. One of the exercises she does in physical therapy is simply the therapist holding onto her foot and pulling away from her hips as she lays on her back on a table. To replicate this exercise at home they have recommended an inversion table (where you turn upside down and hang from your feet), but since she's not too keen on this idea I'm trying to figure out how to replicate this exercise...which is where the idea of a remotely operated winch comes in.
I don't really have a wide range of knowledge when it comes to what equipment is out there that can help me accomplish this goal, but I'm not too shabby at designing things and since I just installed a superwinch on my grizz this is the first idea I've come up with.
Basically I'm imagining using some kind of winch whose rope would be worked through a pulley system that would end attached to a shoe which Mom would put on, lie down and use the remote switch to gently stretch the leg.
- Winch (if an ATV winch) would be powered by a 12v car battery hooked up to a trickle charger
- Safety mechanisms would include...
- a light switch dimmer inline between the 12v battery and the winch so speed can be adjusted.
- possibly using one of those stretchy rubber exercise resistance bands in the line segment to regulate and ease the pulling
- a remote power cut off switch paired with the remote 'in/out' switch
Honestly I could just go ahead and make this system myself, and I'm fairly sure it would work, but I thought I'd bounce this idea off a mechanically minded community to see if there are any ideas how I could improve on the design.
Since I'm only familiar with ATV winches at this point that's what I've imagined using. But if anyone is aware of a 110v based winch that would be more appropriate, that would surely help in simplifying powering the system since it'll be located indoors. Only requirement for the winch would be that it would need both an in and out function operated by a remote switch. And since the winch would only need to pull between 10-20 lbs it wouldn't need to be nearly as beefy as the ATV type.
Sorry for the long write up here but I'm certainly glad for your time and open to your opinions and suggestions.


By surbike11

Thanks in advance for any help or guidance. I was out riding the other day and lost all spark. I have read every thread on every forum that I could find and have not found an answer. I have checked the codes and its 00. I have ohm metered the stator and crank sensor. I have also replaced the coil pack. I have inspected and cleaned all connections. I do not mud the machine, it is mostly used at the hunting lease for working plots. When I installed the new coil I held the plug on the side of the engine and got 2 little sparks when first turning over and then nothing again. When you turn the machine over like this it eventually flashes EFI on the screen. I checked both wires that go to the coil and noticed that both have ground continuity. While turning over the blue and white one cycle from around 1v to almost 12v. The battery has a full charge and I am at a total loss. I took the kill switch apart and all looked well. Oh yea and all fuses are good. Help me please I am getting very frustrated. Thanks


By hangingon

we hear the claims of tires and whats good for trail riding, mud,moto x, sand, etc. I want to know what tire is good for trails covered in leaves those suckers are slicker than mud I think. I would hit the throttle and then the fish tailing would start it was fun until you trying to stop and you slide while headed for a tree.


Recently Browsing

0 members

No registered users viewing this page.