Do you own an ATV? Join our Forum!

As a member, you can post in our forums, upload your photos and videos, use and contribute to our downloads, create your own member page, add your ATV events, and even start your own ATV club to host your own club forum and gallery.  Registration is fast and you can even login with social network accounts to sync your profiles and content.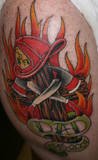 ---
Similar Topics

By Kawiherder

It starts and runs Ok but after a while the temp gage lights up and the fan fails to start.  Any suggestions on where to start looking would be helpful.  Thanks


By JacobSlabach

i know this isnt an atv but same type of thing.  I have a riding mower im fixing and selling for my aunt and it has a dead battery.  i jumped it off my atv and when i turn the key nothing at all happens.  i tried jumping the relay still nothing.  this is with the seat down.  you wouldnt think this mower would have issues as its a top-of-the-line brand and almost brand new (aunt found it for a good price, still got tits on tires, just sat for a couple months in a mechanic shop


By Gary Skriba

just got a 99 Kawasaki bayou replace the coil because the spark was very weak still have the same issue before it would start after a while that it would start everyday as long as you started it every day but if you let it set you play hell starting it looking for information on what could possibly be wrong maybe the CDI box not sure any help would greatly be appreciated thank you


By Rich1028

Division 3: East North Central (Illinois, Indiana, Michigan, Ohio, and Wisconsin)
Leota Michigan Trail Riding First One Of The New Year!
http://www.upnorthtrails.org/trails/leota-trail.html
 


Similar Tagged Content

Recently Browsing

0 members

No registered users viewing this page.