Do you own an ATV? Join our Forum!

As a member, you can post in our forums, upload your photos and videos, use and contribute to our downloads, create your own member page, add your ATV events, and even start your own ATV club to host your own club forum and gallery.  Registration is fast and you can even login with social network accounts to sync your profiles and content.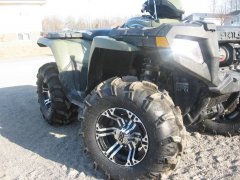 ---
Similar Topics

By Dan Tressler

I have a 2018 Sportsman 570 SP Hunters Edition. I bought the quad new in August of 2018 and put around 20 miles on it with no issues. In early January of this year the quad was acting as if it had a bad battery even though it had been plugged into a tender. I checked the battery and it tested well so I took it to the dealership for warranty service. They had it for almost a month. They determined the quad had a bad EPS unit and swapped it out. Then they told me that the wire for the EPS needed to be updated as they could not program the new unit with the old wire. After the wire came in dealership told me they were still having troubles programming. After another week and a half they told me that they had consulted several times with engineers from Polaris and found a workaround and that the quad was ready for pickup. I contacted Polaris to inquire about the warranty being extended as it was in the shop for a month. They extended the 6 month factory warranty for an additional 3 months. I picked the quad up and the dealership said that the 2018 SP editions were known to have issue a with the EPS units but believed that they had fixed mine. I had it back for around a month and took it out a couple times for short rides and everything seemed fine. I parked it again for a few days and when I went to start it same issues (acting like the battery is no good and won't start, when I jump start no power steering). Took it back to dealership and waiting to hear what the diagnosis is this time as well as their plan to fix this permanently. Just wondering if anyone else has had issues similar to mine or can give me some advice. Thanks in advance!


By derek09

hi is it possible to have the software for the Pim1 (ems) for raptor 700 thank you !!


By StolenATV

My Children's 50CC Yamaha ATV was stolen from just outside the garage. I did a little custom work to the front of it and added two LED headlights to it as well as a switch to the plastic handle bar cover. Our home sits well off the road and it was not something that was just in plane site so my fear is that this was planned over time and the thieves knew we had it and were just waiting their chance. We also had a 20 inch bike that was stolen as well, we were able to recover it however about a mile down the road as it was left abandoned. We didn't know it, but we think the bike may have been taken a few days earlier. Now sure if both items were taken by the same person or just a coincidence Thanks for any help you might be.
The post Yamaha 50 CC Raptor ATV Stolen appeared first on STOLEN 911.
View the full article


By Bleuu

Hello so I'm new to the atv seen, and was wonder why my stock light didn't turn on , and it figures that the black and white wire and the black wire were ripped apart everything else is connected fine, what could to reconnect them


Similar Tagged Content

Recently Browsing

0 members

No registered users viewing this page.