Do you own an ATV? Join our Forum!

As a member, you can post in our forums, upload your photos and videos, use and contribute to our downloads, create your own member page, add your ATV events, and even start your own ATV club to host your own club forum and gallery.  Registration is fast and you can even login with social network accounts to sync your profiles and content.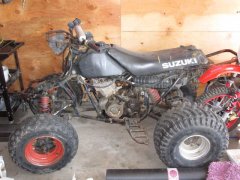 ---
Similar Topics

By Ryan Hutton

Hey guys i am new to this site. i have a quadmaster 500 and last year my brother in law had it out and brought it back. When we went to put it away it wont move now any suggestions i have the belt cover off now. With it jacked up it seem to take gear when its not running.


By Jeff Miller

I'm trying to troubleshoot a starting issue. For a while, maybe a year sometimes I would hit the starter button and I'd hear a single loud click, but the starter wouldn't turn. Usually if I could pull the pull start or roll it in gear it would then start. (now I'm thinking that was coincidence) Now it only clicks. I tried to check what I could, battery is good, solenoid clicks strong, cleaned all connections (which were 80% clean anyway). I started thinking the starter wasn't spinning. I pulled it and it spins freely. The gear that it contacts in the engine-I can wiggle it maybe 1/16th to 1/8th inch back and forth. When I reinstall the starter I feel it jerk when I hit the button. I'm thinking maybe it's the starter clutch? It seems when there's a problem with them they usually just spin freely and don't engage at all. Is it possibly something is causing it to lock? I'm a bit lost now.


By Tanner J Hawley

Hey so i have a 85 Suzuki lt230s and it runs just fine except for some reason idk but wen i put it in gear and let off the clutch it wont move but the shifter goes threw all gears so idk what or how i would go about fixing it or were to even start?? Any help would b very much appreciated


By Steven Urban

First time using this forum.  Owned a Kawasaki dirt bike once, had no issues.  But I picked up this 4 wheeler at an auction.  They stated it ran, but only needed a battery.  Well I do not believe that was all true.

Some pictures are attached.  Not sure why, but the whole air filter stuff was removed.  They had some small thing inserted as a make shift air filter.

I purchased a battery to try this all out.  Waiting to return it and get the proper size, as it was too big for the battery box.  But here is my issue I had while the battery was connected.

1 - The lights on the steering column did not come on.  Not sure if they work or not.

2 - The starter solenoid seems to be bad.  I have a new one on order. 

3 - In the pick, there is another rusted part.  Not sure what that part is or what it is used for.

4 - What is the 12v rectifier?  square bodied part.

So when I hooked the battery up.  Pushing the start button did nothing.  Pulling the cord to try and pull start, it turned, but would never fire.  I have put in a new spark plug as well, it looked worn out.  With electric start, I crossed over the posts on the start solenoid, it turned over, but would never fire and start.

I have read a few other threads and it stated something about needed the neutral light on.  SOmething about a kill switch.

Any help would be appreciated.





Similar Tagged Content

By Monika Novakov

I have a 1988 Kawasaki 220 bayou. I removed the skid plate and misplaced the 4 bolts. Anyone know the size of these bolts, 3 dealers could not find any information. Can you please help?


Recently Browsing

0 members

No registered users viewing this page.