Do you own an ATV? Join our Forum!

As a member, you can post in our forums, upload your photos and videos, use and contribute to our downloads, create your own member page, add your ATV events, and even start your own ATV club to host your own club forum and gallery.  Registration is fast and you can even login with social network accounts to sync your profiles and content.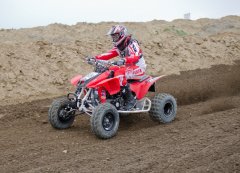 How to get a VARY stuck bolt un stuck
---
Similar Topics

By HeWasRidinDirty

Anyone know where I can get a free download? I had one a month or so ago on my 'puter but one day it flipped out and I lost it. I gotta put the top end of this 450 together (hopefully today) and I need some info. I've searched and searched this morning, but, I can't find one. Thanks! 


By Roy Anderson

I have a 2002 Suzuki LT-F500F, and am a first time atv  owner. I rode two wheel bikes for many years, and now, two months in to being a new at owner, am just not enamored with the thumb throttle, and I'm wondering if anyone has tried a conversion to a typical twist grip throttle as found on all motorcycles? If so, how do you like it?


By Kanyon Pershing

I have recently rebuilt my Yamaha warrior 350 engine and when I got it all back together with no "spare parts" i went to start it and realized it's in reverse. I went to put it in drive and the shifter won't budge, I took the linkage off and tried to use vise grips but it won't budge at all. Any help would be greatly appreciated. I'm hoping it's not something internal! 


By Guest foscoe944

Hi, I'm new to the forum. I have a large trailer, about 7500 lbs loaded, that I need to move around in my driveway. I was planning to buy a motorized trailer dolly, but it occurred to me that perhaps and ATV could do it, and then I could not only move the trailer but also have the ATV for the fun of it!
I'm wondering if anyone knows if an ATV can move a trailer this size? The tongue weight is about 750 lbs, and I'd only be moving it very slowly in a small space on almost level concrete and gravel.


By Richard Paradise

My 1997 Beg Bear got stuck in 2nd Gear when parked on slight hill, otherwise in perfect shape. Trying to get it into neutral, by rocking it back and forth won't release out of gear.
Any suggestions, It's my work horse and I keep it in to shape, got to get it running..


Similar Tagged Content

Recently Browsing

0 members

No registered users viewing this page.