Do you own an ATV? Join our Forum!

As a member, you can post in our forums, upload your photos and videos, use and contribute to our downloads, create your own member page, add your ATV events, and even start your own ATV club to host your own club forum and gallery.  Registration is fast and you can even login with social network accounts to sync your profiles and content.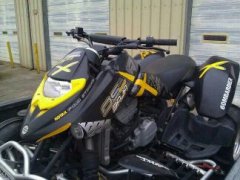 ---
Similar Topics

By wwdubose

I have two 2003 Suzuki Ozark 250s, both 2-wheel drive.  Last time we rode them about a year ago, the red one was not running well, didn't want to idle, backfired a lot.  The green one ran fine. 
Fast forward...I ordered a carb kit for both of them, thinking the red one has some trash in a jet.  Both of these ATVs have had little use and I've always ran the gas out after use (put an inline cutoff valve in gas line).  I pull started the red one to verify it was still running bad.  It will start and idle, but as soon as you give it any throttle, it dies instantly.  Give it a little choke, dies instantly.  Took the carb apart and it was spotless.  Went ahead and cleaned all the holes with carb cleaner and blew everything out with compressed air.  All new jets, main jet holder, and needles.  Put it back on and nothing changed.  Starts, idles (not for a long time), but dies as soon as you give it gas.  Same happens when you put the choke on.  It does the same thing when I try to run it turned to prime on the petcock as it does in the on position.
Not an air filter issue.  It is clean and it does the same exact thing with no filter on it.
Thought maybe there was a float issue or maybe a damaged diaphragm, so I took the carb off the green Ozark and put it on red.  Started up and initially ran normal and revved for about 10 seconds and then started doing the same exact thing.  Starts, idles (not for a long time), but dies as soon as you give it gas.  Same happens when you put the choke on. 
So...not the carb
Thought maybe vacuum petcock was bad, but there's no gas in the vacuum line going from petcock to carb and gas flows freely when on prime.  I even plugged the vacuum line at both the petcock and carb end and tried to run it with valve set to prime.  Gas flows freely, but does exactly the same thing.  I unscrewed the screw at the bottom of the bowl and gas flows thru carb and out bowl drain line when petcock is set to prime.
So, I'm assuming petcock is good?
Checked spark plug and it wasn't fouled.  Reset gap, didn't help.  Will swap plugs between Ozarks tomorrow but I don't think that is it.
Anyway, that he history and now you're all caught up.  Scratching my head.  Valves? These were bought at same time and have had little use.  Suggestions?
Thanks!   


By Matt John

Charging issue?
I have a 2017 Polaris Sportsman 570 EFI. Yesterday, I start the machine and it says low power (10.6-10.8). This machine is on its second battery. This is a new AGM battery with 50cca more than stock.
Should I look at the regulator or stator?
Thanks!!!


By Brian Sosebee


I just rebuilt my 03 sportsman 400. Put everything back together added oil per the manual. Pinched off the oil tank vent line 2" away ran for 45 seconds then cut it off. Check oil level and it was still way high so I wasn't confident that it primed so I did it again. Checked again and it's the same. Remove the oil filter and it is dry. I did the procedure again and the same results.

I'm worried to keep trying this as the only oil in the engine is what I used to lubricate the parts when reassembling the piston. The crankcase was drained as well.
I Removed the oil tank and checked all the lines for obstructions and the screen filter and the vent hose and everything is clear. I even pulled a small vacuum on the oil tank while it was pulled off to make sure there were no leaks. The dipstick cap was on tight so I'm not sure why this thing is not priming.

Anyone have any suggestions. I thought about pre-priming the oil lines from the oil tank to the crankcase to hopefully help the system prime. I'd like to be able to add some oil to the crankcase to so I wouldn't feel so bad about running the engine for another 60 seconds without oil. I dropped just a little bit of oil in the spark plug hole to help condition the sleeve right now.

What do I do? Anyone had or heard of an oil pump failure on these. Btw oil pump is working fine before I did the top-end rebuild and the oil pump was not touched.

Please help!!! Thanks all for any and all help.


By Sled Dog

Hello Team!  Hopefully someone can help me.  I've been to the Suzuki forum and its pretty dead.  I should have been on this site a while ago as I own a Canam, Hondas and a RZR!
Anyways issue is the ATV won't start.  Friend gave it to me to try get running.  They installed a Amazon carb and machine did the same thing.  This machine has 1100 miles and is not beat.  Appears to have led a gentle life.
So the first thing I did was ask for the original carb.  They do have and brought it over.  But first I changed out all the old gas and put new in.  Got it to start but would not idle.  But could ride it around yard.  Its a manual, went through all 5 gears.  Runs like normal but would not idle.
So I got a Shindy rebuild kit and rebuilt the original carb.  Reinstalled and almost the same thing.  Starter spins and it tries to catch but doesn't until it does.  Then it seems to run ok.  Idles high but after a while it will go down.
So I take tank off and give a very good cleaning.  Took off the fuel petcock.  All looks good.  No fuel in the vacuum line so I believe its working as it should.  Cleaned carb again.  Adjusted valves.  Did not need.  Reinstalled everything and same exact thing.  Spins like a maniac for 10 or more seconds before it will start.
Spark plug is black.  Brand new one too.  I checked the spark and did not see any.  Googled how to do it and I was doing it right, tried again, now I have spark.  Hmmm.  Kept checking and always had it.
My battle plan now is to clean the Amazon (Chy-na) carb and install that one.  If it does the same exact thing I'll figure its not the carb.  If it does something different this will tell me nothing as I don't trust the Amazon carbs!
But now I've read that these models Eigers have issues with the fly wheel magnets coming loose.  And affecting spark.  Anyone know if this sounds right?  Maybe if the spark is out of time it makes it harder to start but once started the running engine can overcome that?
Oh yeah, compression is 130, spec is 142.  Not sure I trust my Harbor frieght compression tester though.  I'm bringing it to work to get the gauge calibrated.
Sorry so long winded but I like to give all the details I can for the people in the know!  Anything anyone can suggest I do?  Thanks for your time!


Similar Tagged Content

Recently Browsing

0 members

No registered users viewing this page.