Do you own an ATV? Join our Forum!

As a member, you can post in our forums, upload your photos and videos, use and contribute to our downloads, create your own member page, add your ATV events, and even start your own ATV club to host your own club forum and gallery.  Registration is fast and you can even login with social network accounts to sync your profiles and content.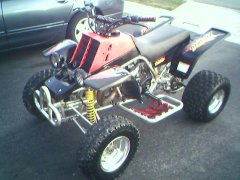 ---
Similar Topics

By YamahaGrizzly

FINALLY my 2016 yamaha grizzly 700 gets a bath! If you know me you know I sometimes forget to actually get all the skeg off the yamaha grizzly 700 sometimes lol unlike Jon with his yamaha grizzly 700. Take a look at the video the grizzly was acting up like nothing else!


By YamahaGrizzly

Shorter video than most of our videos but ALOT of work has been done in this video! The Yamaha grizzlys 700 will LOVE this cave! At first we were not sure if we would be able to fit two yamaha grizzly 700s in the grizzly cave but since the cave is all cleaned up I think we have more than enough room!


By shitboxlover

I have a 2008 loncin desert storm that wont stay running.
When it ran it ran rough and backfired a lot.
Now it will only start with throttle and there's a lot of unburned fuel (white smoke), there's also compression comming out the airbox. Is it the carburetor that is broken?


By Ajmboy

Got my Yamaha Grizzly buttoned up finally and went for a quick 2 hour ride in the power lines with my neighbor, who has a Yamaha Kodiak. We have access from his yard, which is nice. Was a beautiful day today to get out and will try to go more often. Ran into two other quad riders with a sportsman and I think grizzly. Also ran into a dirt bike rider. 😎




 


Recently Browsing

0 members

No registered users viewing this page.