Do you own an ATV? Join our Forum!

As a member, you can post in our forums, upload your photos and videos, use and contribute to our downloads, create your own member page, add your ATV events, and even start your own ATV club to host your own club forum and gallery.  Registration is fast and you can even login with social network accounts to sync your profiles and content.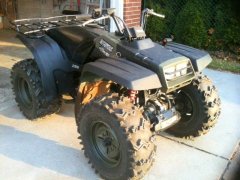 ---
Similar Topics

By Brother Buddy Gardner

Hello everyone! I recently purchased this quad for a mere 300.00 and it is pretty clean for the year. I bought it from a guy who bought it in a storage unit. He didn't know anything about it. I got it home and noticed it did not have an ignition coil for the spark plug. I bought the ignition coil, a new battery, new CDI box, new starter relay, new safety neutral relay, new carb and so on... I got it to turn over, but when I pull the plug and check for spark I have nothing.. it has a non factory starter button that works when I push it and turns the engine over no matter if the key or stop switch is on or off..not sure what that's all about, but it does turn over..just no spark at the plug. Any help would be greatly appreciated! Thanks!


By John Victor

My father-in-law gave my boy a 1999 350 Big Bear. It's been sitting in a barn for a bunch of years. It runs great! My boy has been riding a couple weeks now and it has developed a squeal coming from the front end when you get off the gas at speed. No noise during acceleration. At first I thought brakes. I took it for a ride and I don't think it is the brakes. I feel it is the front prop shaft U-joints, front differential or one/both axles. I pulled the fill plug on the differential and I can't find anywhere how much gear oil should be in there. My gut says up to the fill opening. It doesn't have a manual. It's wet in there, just don't see any gear oil.

#1 Should I fill the differential with gear oil up to the fill opening?

#2 How do I check or know if the u-joints are bad? That looks like a "Big Bear" of a job if they don't need to be replaced.

#3 What else could it be? I don't think it is the front bearings. I jacked the front wheels off ground and no play in the right wheel. Very little play in the left wheel, looks like the lower control bushing is where that play is coming from. The rubber CV boots look original but all still intact. Wheels spin easily without any noise.

Thanks for any help!


By Ajmboy

Got my Yamaha Grizzly buttoned up finally and went for a quick 2 hour ride in the power lines with my neighbor, who has a Yamaha Kodiak. We have access from his yard, which is nice. Was a beautiful day today to get out and will try to go more often. Ran into two other quad riders with a sportsman and I think grizzly. Also ran into a dirt bike rider. 😎




 


By amharrison24

i have a 91 moto 4 100. has electric start only. for as long as i could remember we have always pushed start it. after riding for while you shut it off. you are able to hit the start button and it will start right up. anyone know where i should start with fixing this issue? im fixing it up for my niece. thank you in advance.


Similar Tagged Content

By Guythis448

Looking for help on wiring up stock wiring harness specifically for a '88 Honda TRX 300 
If anyone could drop a link or send me a PM it would be much appreciated 


By wHarmon

Our 1988 Yamaha Terra Pro is finally seeing the finish line of becoming our new bush hogging tractor! I've had the terra pro for almost 2 years... we had great intentions, but after removing the fenders, fuel tank, and the carb, we let it sit up. Shame on us! However, the terra pro is cranking today. We cleaned the carb, figured out what goes where and where did that screw go! She smokes like there's no tomorrow, but that's okay! The only issue right now is getting all these lines hooked back up to the carb right! There is 5 lines to hook up to this thing!! And in our moment of drinking and removing parts, we cant remember how they go back on. I've found several diagrams online, but none showing the overall schematics of all the lines! If anyone has a service manual, or any way of helping us figure out what goes where I would really appreciate it!! I can attach pictures later if it'll help!


By Guest Fox300exchic

The Hop-Up: You may be saying to yourself, "that's a chick bike," and you're right. But honestly, it's so much more than that. It's one badass bike. http://www.quadmagazine.com/quad/features/article/0,24942,1587044,00.html


By dyyjrr9

I just got a 1991 Yamaha Moto 4 for my son and I am looking for a service repair manual. I know that the timing chain needs replaced.


By alexcross324

Hi all, my second post here
I got an old Yamaha 88 moto 4 and I have a problem with my overflow hose from the carb.
When I put the gas switch to ON a big amount of gas is leaking from the overflow...so I start using my quad with the gas switch to RESERVE wich is also leaking but less than in ON position.
I dont ride a lot..but in a week I empty my gas tank.
Strange.
I never clean my carb because Im new to quad world and dont have the service manual...so I need you point of view.
Thanks guys!


Recently Browsing

0 members

No registered users viewing this page.