Join Today, It's Simple and FREE!

As a member, you can post in our forums, upload your photos and videos, use and contribute to our downloads, create your own member page, add your ATV events, and even start your own ATV club to host your own club forum and gallery.  Registration is fast and you can even login with social network accounts to sync your profiles and content.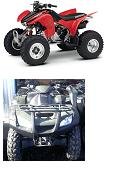 Places to ride near Maryland
---
Similar Topics

By Gunny

Yeah Buddy, another Great Day on the snow ... Hope you enjoy the video ....
 
 
 
 
 
...


By Greenrider

Hi im in the Bradenton Sarasota area looking for riding buddies and places to ride anyone in the area????


By bradley nelson

Im cool with the police in my area so i can ride on public roads.


By Guest DunePrincess

Hi Y'all.. I'm new to the site. I added a few of our favorite riding spots. I'll keep adding more..
Just wanted to introduce myself. I would love to meet more Washington riders- and more female riders!. So stop by and say Hi!



By 4tracker

So many things can go wrong, while out riding, even when with others, when getting away from the group! Try to always ride with at least one other person! If your over 50 and ride alone let me know, I'll try to go with you. I know the trails pretty good, up north, around St Helen, Mi. or I'll try to try areas of the state your more accustom to. I know its too cold now, but spring will be here before you can blink an eye lol
I can ride with the slowest dude in the pack, to WOT! Get in touch before season starts for more inf. Thanks, Steve



 
 

Similar Tagged Content

Recently Browsing

0 members

No registered users viewing this page.