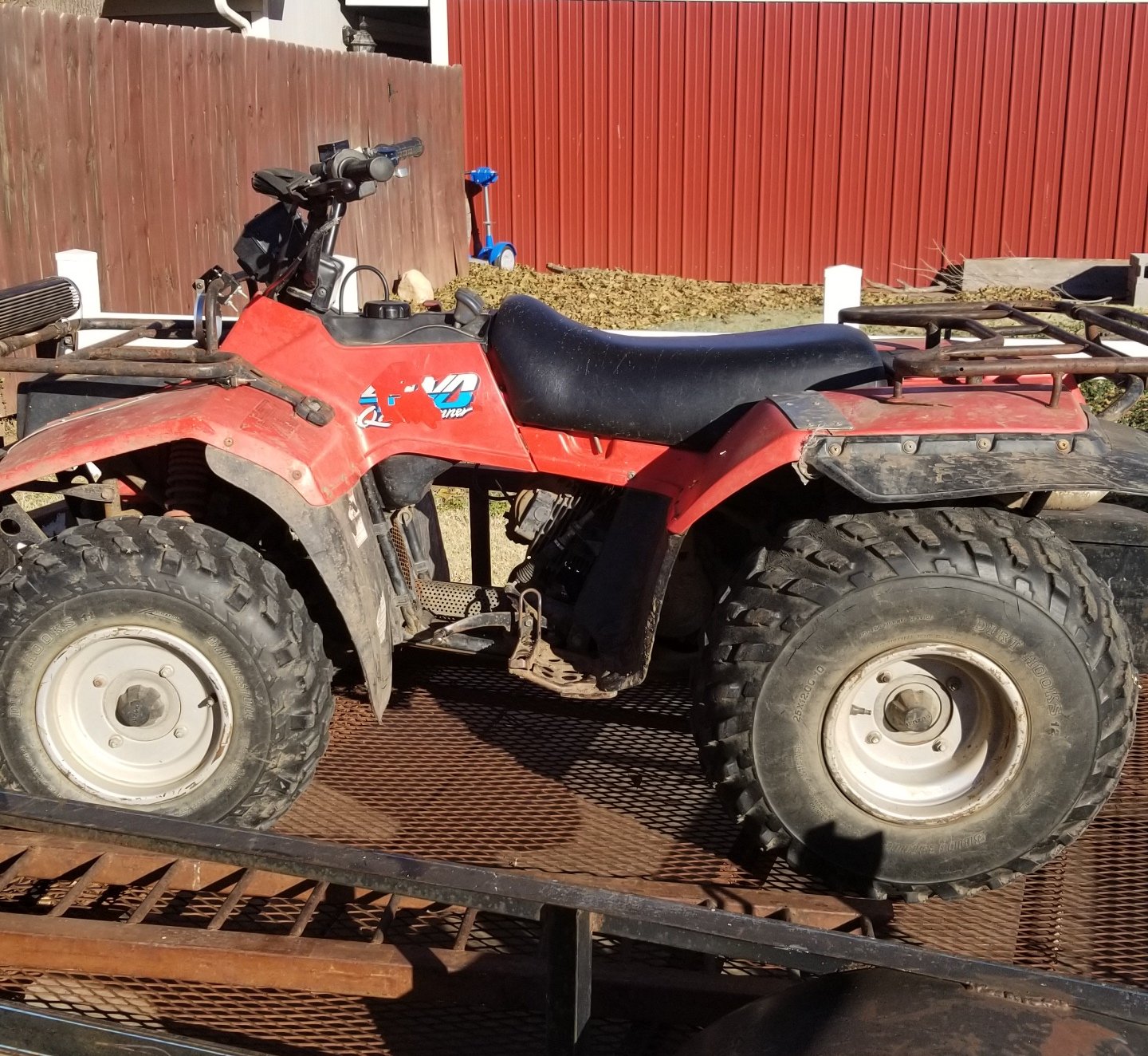 Content Count

17

Joined

Last visited
Community Reputation
2
Neutral
About DKW
Rank

Occasional Poster


Location

Hollis, OK, USA
Recent Profile Visitors
The recent visitors block is disabled and is not being shown to other users.
Got the new carb kit installed today and man what a difference. Again, thanks WFO for the hint. Turns out the previous owner had a smaller main jet installed. Set the adjustment screw to factory specs. She idles now and has more power. Glad we figured that one out. Thanks Quadcrazy for allowing me to be part of this. You all have helped me tremendously.

New tires. Plastics welded. Cooler rack. Speedo cable replaced. Breaks fixed. Ready for the river! Well almost. Still having carb issues. Need a carb kit. Also noticed a front wheel with a little play in the bearings. Happy with it so far and its finally warming up so I'll feel like getting outside to tinker with it.

So I've gone through the fuel system completely. Cleaned the carb. Set the valves which were a little loose. And still runs best at 3/4 turn out on the carb. Seams to have fixed the dying issue wham warm. WFO made a very good point! Next step is a carb kit. Best to know exactly what I'm working with! Thanks for the eye opener WFO! Oh, and the plunger, according to the manual is simply a kind of lock that keeps the enricher down when in, and releases it when out. Odd, but ok. No I am not running with choke/enricher enabled.

Manuel says pilot screw should be 1 3/4 turns out. checked mine and it was at 3/4 turn out. adjusted to 1 3/4 turns out and ran very rich. Smoking and would not idle. Going back to 3/4. Next time the weather clears up ill start going through the fuel system and get a few pictures. Also got a new spedo cable ill install while ive got it apart.

New break cylinders and front breaks are alive! on to the next! "Welded" all the plastics back together and got rid of the "stitching". sanded and painted the racks. looks great! Finally road it to my shop about 10 blocks away to drag some stuff around, got her good and warmed up, and noticed when I hit the throttle it would die, Kinda had to feather into it to keep it running. need to clean that petcock first. hope its not electrical.

You guys are a fountain of really good information! thank you for that! after a good power washing and "welding" the cracks back together it didn't turn out too bad. This thing has been kept under cover when not in use its entire life and therefor has no oxidation. Iv decided to leave it with its patina for now.

Tore into the front breaks the other day....not good. Went through the master cylinder and got all the crud out " took for ever to even get the plunger out". Got it to take some fluid then stopped up. Pulled break lines and cleaned a blew them out. Finally got fluid to the hubs. Break cylinders bad. Crap. Corroded to the point of no return..found some cheap on Ebay. Unrelated but I still dont know what that little plunger on the side of the carb is for.

I have already discovered that fact and also found stuff in Ebay that I did not expect to find for a good price. Thanks for the info!

Going to need the manual after all...

Just realized the speedo is not working. Looks like a cable but cant find where it hooks up. Also front break reservoir is empty. No front breaks. Gotta find the leak.

Just posting so I dont lose this post

Nope put them back in just like they were. Same number of turns.

I have a 88 quadrunner 4x4. The vin is located on the left rear down pipe. It's a welded on tag and pretty obvious once I got down there and looked. Found all my info online. Not sure if yours is the same.