Join Today, It's Simple and FREE!

As a member, you can post in our forums, upload your photos and videos, use and contribute to our downloads, create your own member page, add your ATV events, and even start your own ATV club to host your own club forum and gallery.  Registration is fast and you can even login with social network accounts to sync your profiles and content.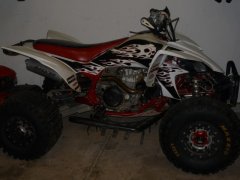 ---
Similar Forum Topics

By Randomizer

My battery on my Kingquad was low, but not dead, so I hooked it up to my 2A charger. The problem is that I left the key turned on. After a couple of hours, I came back to check on it. I disconnected the charger, and tried to start the quad. Nothing happened. The display did not come on, nor did any indicator lights. After a few seconds, the display came on, but it had a "chec" message displayed near the odometer spot. And something was clicking under the seat. It is what ever the electrical component is right next to the fuse box. When I depressed the brake, to start, the display went black again.
I check all the fuse, and they looked good. Also, the battery is fully charged. I think maybe I burned up the voltage regulator. Is there a way to display a diagnostic code? Any other ideas?


By jigolbeep

Well hunting season is getting close.. I figured i would start a thread to see who all is into hunting and for you to show off and discuss your guns, bows, trophy havest ect...
Here in south east Kansas I hunt deer, turkey, dove, quail, and travel north for pheasant.
I also do a little predator population control (coyote)
Here is a look into my safe...

My collection

(Encore pro hunter .223 barrel with red dot) (Gen 4Glock 22 .40cal with trigger kit) (Ruger Mark II Comp. target model stainless .22cal)

(Browning gold 20ga) (Remington 1187 20ga turkey choke and true glow sights) (Browning Citori Lightning Field 12ga)

(Savage 22-250cal model 12 Low Profile Varmint, treaded barrel with screw on muzzle break, Nikon 6x18 scope) (Bushmaster lower with Rock River 20" varmint upper with cheap Simons scope for now)

(30-06 barrel and rifle stock for my Encore reciever with 3x9 Nikon scope) (Bushmaster M4 shorty upper for my AR) (Ruger 77/22 .22cal, trigger work, Bushnell 4x12 scope) (Marlin model 60 .22cal)

P08 DWM Luger dated 1912 all matching numbers, has both original mags and leather pouch. My grandpa brough it back from Germany after WWII... This gun will never get sold...

PSE Stinger 70lb, 3 pin sight, drop away rest, Gold tip 5575 with rage 2 blade brodheads

My big doe from last season



By Sparrows

:aargh:YAY!!11oneone
Who are you excited to see play?
Whats your favorite team/s?
I'm going for colts of course.
discuss


Similar Tagged Content

Recently Browsing

0 members

No registered users viewing this page.