Join Today, It's Simple and FREE!

As a member, you can post in our forums, upload your photos and videos, use and contribute to our downloads, create your own member page, add your ATV events, and even start your own ATV club to host your own club forum and gallery.  Registration is fast and you can even login with social network accounts to sync your profiles and content.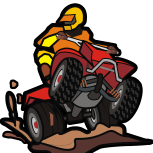 ---
Similar Content

By fishinnnc

I just bought this thing and got the carb all cleaned today and it was running like a champ. There was a spare hot wire hanging down that was not hooked up to anything. I found it when I took all the covers off and did the carb work. Unfortunately I forgot it as well when I fired her up after cleaning and replacing the carb. While I was running her, the wire was lying across the exhaust pipe. The exhaust got hot, melted the insulation and next thing I know I see sparks flying everywhere Bike immediately shut down and all lights went off. I have nothing on the console now when I turn the key over. I fear I have fried my ECU. I found one fuse back by the box, a 30 amp, but it was good. Are there any other fuses on these things? Is there a way to test the ECU? Could it be the rectifier or voltage regulator?


By mabridges

Ready for a road trip? Meet us at Cape Fear ATV Park Easter Week. Me and my partner are planning on having an awesome time! We will be taking photos and writing an article on the ATV Park. We would love to meet some of you and have your input on what you think of the park and it could be published in a magazine!


Recently Browsing

0 members

No registered users viewing this page.