Join Today, It's Simple and FREE!

As a member, you can post in our forums, upload your photos and videos, use and contribute to our downloads, create your own member page, add your ATV events, and even start your own ATV club to host your own club forum and gallery.  Registration is fast and you can even login with social network accounts to sync your profiles and content.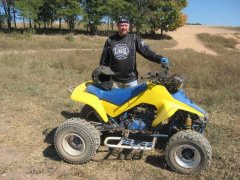 ---
Similar Content

By shelbygt500

I am working on my nephews 1998 wolverine. I am replacing all the bearings and seals in the rear end. I need to know how to determine what shim to put on the rear pinion. According to my shop manual you take the number on the pinion gear and the number on the case and do some math. Problem is there are no numbers on the pinion gear. I measured the old one and it reads .18. According to the parts list the smallest they list is .3. Anyone got any information I would appreciate it. Also if anyone knows of or has a pinion for a 1998 or newer Wolverine that is in good shape and they want to get rid of it let me know what you want.
Thanks


By gfischer

I have yamaha banshee 1996 it has a hot rod 4 mill crank with wiseco 513MO6550 prolite piston.It has a ADA Racing 21cc Domes cut 2 mills and no spacer plate under jugs. Jugs are stock ported It is running about 190 psi in each. the squist in ea. is .048. What can I do to bring down the compression to run pump gas? thank you George F.


By mywifeknowseverythin

Ive gotta Give it up for my Brotha's over a www.3wheelerworld.com They have an Amazing Site with the Most Information on 3 Wheelers around...I hope you all check them out....
Here is a link over to the 3WW site....Hope you find this useful
http://www.3wheelerworld.com/spexhome.shtml


Recently Browsing

0 members

No registered users viewing this page.