Do you own an ATV? Join our Forum!

As a member, you can post in our forums, upload your photos and videos, use and contribute to our downloads, create your own member page, add your ATV events, and even start your own ATV club to host your own club forum and gallery.  Registration is fast and you can even login with social network accounts to sync your profiles and content.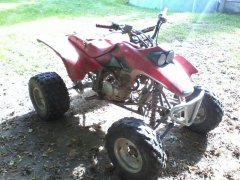 ---
Similar Topics

By Admin

For anyone looking for ATC 3-wheeler service and repair manuals, please check our our downloads section under ATV Repair manuals.
Thank you to @oxidized_black @Maggie Hall @northernmi for their contributions.
Here are some of the ATV 3-wheeler repair manuals currently available. Please add to our downloads if you have some to share.
 
 
 
 
 
 
 
 


By Buick350X

Exploiting a loop hole in the law, turn 4 wheeler into rev trike
for a long while I have been trying to get a real 4 wheeler street legal.
the problem is with the state laws, if it has 4 wheels, its a car and has mega more rules.
If it only has 3 wheels, its a trike and can be made from cobbled junk parts held together with duct tape and they will plate it
I wonder if anyone would have insight on changing a 4 wheeler over to a single rear wheel?
[ I can't afford some $40-60,000 canam or super bike modded into a car, rev trike kit ]
I want something I can truly ride year round on and off road. Ive rode enough old Honda 3 wheelers that I know I do not want a traditional motorcycle trike. So the single wheel has to go out back.




By StolenATV

Thieves cut the cable lock, stole my four wheeler. Broke into my cabin and stole numerous items.
The post Yamaha Kodiak Four Wheeler 4 Wheeler ATV appeared first on STOLEN 911.
View the full article


By Gunny

Haven't posted anything in a while, but I do have a couple long video's you might enjoy ... I'll post the newest one now, and the other one later ...
So ... Took a ride to an area I haven't been too in about 10 yrs. Don't remember it being as rocky as it was, and the parts I remember being really bad, although still bad, weren't as bad as my memory remembered ??
We did 18.4 miles in 7 hrs and averaged 3.3 mph :drivingc: ... Man, What A GREAT DAY !! :woot:
And some of you are gonna hate me, since this video is 19 minutes ... but I promise, it's not boring at all !! :toetap05c:
We had great weather, lots of challenges, saw lot of deer .... and not one other person all day long !! :coolgleamAc:
Make sure you change the video quality to 1080p for the best viewing enjoyment !! :seeyac:
01 Oct 2013 - Taylors Fork Ride - YouTube
...


Similar Tagged Content

Recently Browsing

0 members

No registered users viewing this page.