Join Today, It's Simple and FREE!

As a member, you can post in our forums, upload your photos and videos, use and contribute to our downloads, create your own member page, add your ATV events, and even start your own ATV club to host your own club forum and gallery.  Registration is fast and you can even login with social network accounts to sync your profiles and content.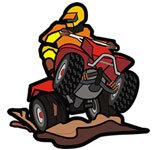 ---
Similar Forum Topics

FOR SALE: $10,800 or best offer.

Custom built Street Legal Harley Davidson 4 Wheeler . 

Answer to your first question ...
YES, you can drive it anywhere.. on highways.. back roads... neighborhoods.. off road... ANYWHERE ITS LEGAL FOR CARS or 4-Wheelers !

This took a lot of work and effort with many divisions of the transportation dept. and through multiple attorneys advice.

This is one of only two 4 wheelers that are street legal in the U.S.A. (Excluding Montana, parts of Arizona, and New York).

Now for the details. 

Its a 1989 Harley Davidson Frame and Engine.
The motor is matching numbers to frame and title.
The motor is 883cc beefed up to 1200cc.

This bike has too many upgrades to list as you can see in the pictures.

Please ask questions if needed.

This bike has been in Dirt Rider Mag and several other places.

There is more than $20,000 in parts and man hours put into this bike.

Additional Upgrades I will be starting this month:
Turn Signal Relay and Dakota Digital Upgraded Speedometer

This bike has Super Swamper Vampire tires in some pics (THESE ARE NOT STREET LEGAL TIRES) and do not come with bike.

This bike has STI Black Diamond Tires with black STI3 rims in other pics. (THESE ARE DOT APPROVED TIRES AND ARE STREET LEGAL).

This bike also has ROAD Street Tires too.... 

YES 2 SETS OF TIRES !

All 2 sets of tires and rims are included in price.

Top speed is around 100mph-140mph. This thing will move. 

Be the first to own a 4 wheeler on the road and in the woods... 

Please call 812-305-11 nine six I live in Lexington. KY

By h1000101b, in ATV For Sale? Post it here.

Red 2018 Polaris 570 4-Wheeler, less than 10 hours on it. We just got it. We added a couple of things to it, but will withhold that information for identity reasons.
We are moving into a new home & they broke in & took the 4 wheeler along with a title saw, many tools that belonged to our contractor, all the bedding off the bed, curtains, all our cleaning supplies, container with office supplies, family pictures, a container full of DVD's, & a blue ray player, all the Dish network equipment, hopper etc. The post Stolen 2018 Red Polaris 570 4-wheeler appeared first on Stolen 911. View the full article

By StolenATV, in Stolen ATVs

Here is an issue we see often at the shop!   In this video, Robyn explains how to confirm the year of an ATV using the VIN. It is important to confirm the ATV model year as this is a commonly mistaken characteristic that is often essential to order the correct part. Each VIN consists of 17 characters. The 10th character will help you identify the machine year. To do so, compare it with the chart available on our website: https://resurgencesmallengine.com/machine-identification  

By Resurgence Small Engine Inc., in General ATV Discussion

Does anyone know where I can get a manual or wiring diagram for a 1984 Kawasaki prairie 250 three wheeler, it's manual clutch chain drive with locking hubs in rear. I got it real cheap and wiring is a mess.

By Brock Lovelace, in ATV Forums By Brand

Similar Tagged Content

Recently Browsing

0 members

No registered users viewing this page.