Join Today, It's Simple and FREE!

As a member, you can post in our forums, upload your photos and videos, use and contribute to our downloads, create your own member page, add your ATV events, and even start your own ATV club to host your own club forum and gallery.  Registration is fast and you can even login with social network accounts to sync your profiles and content.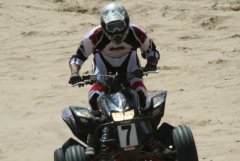 ---
Similar Forum Topics

Many towns and government agencies have ATVs in their fleet. If you see some and take a picture, please post. I posted a couple in the gallery section of the Sheriff's Polaris ATVs. Pretty cool setup.  

By Ajmboy, in ATV Laws, Legal Issues, and Policing

QUADCRAZY has been around over 10 years now and there a lot of members that have come and gone. We had a PM message going so I decided to start a topic. If I miss anyone, please post. Anyone can post, even if you are not an old member, but please keep to the theme of updating us on what you are doing now, what's new, where you are hanging these days, etc. Some of the old timers: @SunLrider @CK1999_400ex @trailblazer_02 @hangingon @pete59edsel @fox300exchic @powermaddd400ex @Raptor8 @GREENIE @NEWACRIDER @atvredefined @lawny @jigolbeep @cheriah @Mudflap64 @pony @Lildaisygrl18 @Tagels @mikeexplorer @Lildaisygrl18 @Jonny450R @yokochrist @DeadAim @Bimmerdog @CRAZYKIWI @KnightHawk @Senator @mellowyellow @DJLime @Desert-Hawk @davefrombc @jeeptuff @kidatvs @kfx450r @hvy_chevy_one @Roody  @rappy97 @Gunny @ALLYRATT @PolarisRich  @Tim-ANC @jerod400ex @MIKEL5469 @swampcat07 @DirtDemon @quadmaniac @WillyPoP @marioweldinginc @BioWare @Sc0tt @wylde1 @nueymansiyami @oxidized_black @mywifeknowseverythin @BuckBilly @Ajmboy @Stoopidbot1 @DrtyGrlKristin @outlander560 @01 RAPPY 660 @joet82 @wheeler0801 @Sparrows @quadnut20 Sorry if I missed anyone. Looking forward to hearing how everyone is doing. 😎

By Ajmboy, in General Talk - Anything Goes!

I was looking online and saw some cool lifted ATVs and figured I'd start a topic. Please post if you have pics or if you find some cool lift kit ATV photos or videos online, let's keep the topic going. I just added this one in the gallery but you can just add them in this topic also.  

By quadmaniac, in ATV Picture and Video Sharing

Similar Tagged Content

Recently Browsing

0 members

No registered users viewing this page.