Join Today, It's Simple and FREE!

As a member, you can post in our forums, upload your photos and videos, use and contribute to our downloads, create your own member page, add your ATV events, and even start your own ATV club to host your own club forum and gallery.  Registration is fast and you can even login with social network accounts to sync your profiles and content.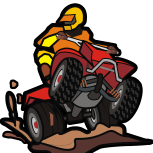 ---
Similar Content

By toonces

New to ATVing and by the end of the summer I'll probably be heading out into some remote mountain regions for some back country trail riding, and I'm wondering just what kind of stuff/tools etc I should bring along in case of breakdowns/events etc. Short list so far includes a GPS (probably a Garmin Montana 650T), a tire repair kit, and courtesy of my Mom one of those satellite personal locator beacons, probably the ResQLink+ from ACR.
Any other suggestions for stuff that might come in handy?


By chebornek

I purchased this machine used @ 492 miles in July 2012. Changed fluids (except radiator) filters, plug (which looked nice and tan) and then put 340 spirited miles on it. I always burn premium, mixed in a 5 gal plastic tank with correct amount of Sta-Bil mixed. Frankly gasoline does not stay in the tank long enough to do much besides get used up.
I've read enough on forums & checked out some pretty thorough youtube vids lately and think I need to remove & clean the Mikuni BSR33. I ordered a rebuild kit from a vendor to obtain fresh gaskets, diaphragm anything else which may need to be replaced... & while I have the plastics removed, I would like to check both valves, flush & fill radiator, drain & fill front & rear differentials & give it another oil/filter change.
I'd also like to install in in-line fuel filter to help guard against what I suspect is grunkus in a jet. I wasn't really aware when I purchased this machine of all the little things to look for, such as the petcock being set on RES instead of ON (which it was until I saw a recent video saying that probably wasn't too smart) and may be giving my carb fits now.
I don't know what the previous owner burned in this machine, for all I know he went with cheapest ethanol mix regular. It was 5 years old and had less than 500 miles on it and looked like it never left the backyard/pasture or saw a trail or creekbed.
It also looked like he'd never changed the motor oil when I drained & changed it 3 days after I brought it home. The air filter was 'wow' dirty.
Thanks to Ox - I've got a suitable Service Manual, and I've got the link to the official MyYamaha parts catalog, what I don't have from either location (or .pdf) is any hose dimensions/sizes (ID or OD). I don't have a full list of tools in what size .mm bolts or hex for my machine.
I have a few tools, but they're mostly SAE. I don't really wish to purchase a full $400 to 700 metric tool set just to grab the two dozen or so - most common tools I'll likely be using to maintain and service this atv.
I've been assembling, designing, building & maintaining home PCs to enterprise class networking equipment since 1988 and I have all the tools & diagnostic equipment to do so.
With the proper diagrams, part numbers & instructions available and by reading these types of forums, I have no doubt I can take care of almost anything which may arise on this Wolverine for the next decade or so, until I wish to pass the machine off to a nephew or neighbor kid...and I hope to never step foot inside a dealership.
Am I the only person who cannot find lists of tool & critical hose dimensions for their machines and we all just have to experiment when we work on these things the first few times? Keep track of what we use, what sizes of hoses & cable lengths, etc..?
I can use the internet pretty well to find the most arcane topics, but I've searched for two days now and can't find what I've mentioned above. There are some mentions of course as to how much to torque bolts down, or what .mm free travel/clearances should be, but it is almost as if the service manuals were written to frustrate the home hobbyist. Here, you can have some of the information, the rest we're keeping to ourselves.
Building computers seems like a walk in the park with all the information provided for their internals, compared to what I'm not finding available from Yamaha.
I truly feel like n00b, thanks to Yamaha keeping all of this information so secretive.
I've searched this forum and haven't found a thread like this for all the various makes of our Yamaha atvs. Does anyone know where such a critter can be found?
Otherwise it's off to experimentation city for me, heheh...
Thanks in advance.


Recently Browsing

0 members

No registered users viewing this page.