Join Today, It's Simple and FREE!

As a member, you can post in our forums, upload your photos and videos, use and contribute to our downloads, create your own member page, add your ATV events, and even start your own ATV club to host your own club forum and gallery.  Registration is fast and you can even login with social network accounts to sync your profiles and content.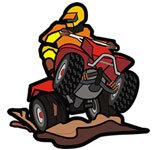 ---
Similar Forum Topics

If you are a new member, why not introduce yourself? This community thrives and grows with you and all our current members! We all want this community to grow and encourage new member registrations. That being said please help out QuadCRAZY by inviting other atv'ers to the community. QUADCRAZY NEEDS YOU!

By quadcrazy, in New Members Area!

In this video, Jonathan checks and adjusts the valves clearances on a Honda Foreman 450. On this unit, the exhaust valve had excessive clearance.   Resurgence Small Engine Inc.      

By Resurgence Small Engine Inc., in Honda ATV Forum

This video  of BMW  engines being  manufactured in China very well  illustrates where  all  the  unskilled repetitive  jobs  have gone, and  why  they're not coming  back in America  or anywhere  else.  What  BMW  has  done   in  China  is  being repeated  by every  industry  everywhere. If it  can be  automated, it will  be and except  for  a  handful of  operators the only  people  employed  by those businesses  will  be  tradesmen maintaining  the robots. Education  and trades training is  far  more important today  than it  has  ever  been.  

By davefrombc, in General Talk - Anything Goes!

Was using the quad the other day to shuttle wood from my pickup to my wood pile.  When the job was done I turned off the Quad and heard a bit of a racket from the front end.  When I got down underneath the sound seemed to be coming from the fan housing.  fan was moving in spurts and not quickly... much like a computer case fan that's had it's day.  What I know. Temp sensor is ok, as the fan tries to activate fan is getting some voltage as it is attempting to spin.  When I first bought it used I tested the fan direct to battery and it was fine. The fan was working ok even not direct wired as I went on a couple of rides and when stopped and idling the fan did run Seems to be free spinning with my finger read up in the manual and they require me to drop the rad.  now I'm not opposed to that as the rad has some damaged areas I want to try and straighten out.  But if I can get the fan working without, I can leave the rad as it is until next year. Fan assembly is about 300 bills, any work arounds or alternatives?  I even thought large computer case brushless fan.  smaller ones are about $7 larger ones better quality probably far below the 300.  They run standard 12v DC. Anything I should be doing before dropping the rad... other than check for obstructions even though it seems to spin, and trying to hardwire it to the battery again for a test to see if it acts the same?

By LMI, in Suzuki ATV Forum

Similar Tagged Content

By Grizzlypicks

I have a yamaha grizzly125 went out the other day and was running fine knocked it off and it won't restart the starter is just spinning so I replaced the one way clutch still no good if I turn the engine over manually the piston still doesn't go up and down but both sides of the crank are spinning does anyone have any idea help???


Recently Browsing

0 members

No registered users viewing this page.