Do you own an ATV? Join our Forum!

As a member, you can post in our forums, upload your photos and videos, use and contribute to our downloads, create your own member page, add your ATV events, and even start your own ATV club to host your own club forum and gallery.  Registration is fast and you can even login with social network accounts to sync your profiles and content.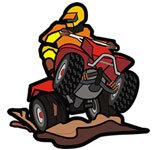 2009 Honda CBR-1000 REPSOL EDITION (Pennsylvania)
---
Similar Topics

By quadcrazy

If you are a new member, why not introduce yourself? This community thrives and grows with you and all our current members! We all want this community to grow and encourage new member registrations. That being said please help out QuadCRAZY by inviting other atv'ers to the community.
QUADCRAZY NEEDS YOU!


By Ben Mann

Rincon was stuck in 4x4 so we cleaned the sludge out of the diff, put fresh oil in and all is well.


By Dan Tressler

I have a 2018 Sportsman 570 SP Hunters Edition. I bought the quad new in August of 2018 and put around 20 miles on it with no issues. In early January of this year the quad was acting as if it had a bad battery even though it had been plugged into a tender. I checked the battery and it tested well so I took it to the dealership for warranty service. They had it for almost a month. They determined the quad had a bad EPS unit and swapped it out. Then they told me that the wire for the EPS needed to be updated as they could not program the new unit with the old wire. After the wire came in dealership told me they were still having troubles programming. After another week and a half they told me that they had consulted several times with engineers from Polaris and found a workaround and that the quad was ready for pickup. I contacted Polaris to inquire about the warranty being extended as it was in the shop for a month. They extended the 6 month factory warranty for an additional 3 months. I picked the quad up and the dealership said that the 2018 SP editions were known to have issue a with the EPS units but believed that they had fixed mine. I had it back for around a month and took it out a couple times for short rides and everything seemed fine. I parked it again for a few days and when I went to start it same issues (acting like the battery is no good and won't start, when I jump start no power steering). Took it back to dealership and waiting to hear what the diagnosis is this time as well as their plan to fix this permanently. Just wondering if anyone else has had issues similar to mine or can give me some advice. Thanks in advance!


By Admin

View File 2018 Textron Stampede 4 Owner's Manual
2018 Textron Stampede 4 Owner's Manual
Submitter Admin Submitted 04/09/2020 Category Textron Off Road UTV  


Recently Browsing

0 members

No registered users viewing this page.