Join Today, It's Simple and FREE!

As a member you can post in our forums, upload your photos, use and contribute to downloads, create your own member page and more! Registration is fast and you can even login with social network accounts to sync your profiles and content.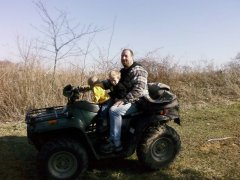 2006 Kawasaki Brute Force 750 - Opinions ??
---
Similar Content

By oleskool

have an 05 750, and she bangs out when you give it gas.
Idles fine. Also the belt light is flashing, even after a new belt was put on.
Any ideas?


By oleskool

Does anybody have the service manual or link for a 2008 650D8F brute force?


By saltlife0624

okay so just recently I bought this machine for a friend's son as a graduation gift. We rode about two days ago and while riding he punctured the oil filter so we went home immediately. I fixed the oil leak and basically did an oil change and went out for a test ride to see how it was riding and about an hour into my ride it started shaking hard when I hit throttle and just rolled to a stop and now it will
Not move in any gear. Out of one of the snorkels had a nasty burnt smell when this happened. Thank you for any help in advance!!