Sign Up, it's FREE!

Welcome to QUADCRAZY! Use the main menu and search bar to navigate our site. It's always FREE to join our ATV Community and post in our forums, create your own ATV club, share your photos and videos, download manuals, and more. It's easy to get started and you can login with some of these popular social networks.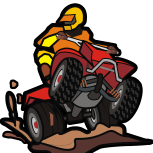 ---
Similar Content

By DirtDemon

I have noticed that alot of very knowledgeable members here only participate in certain branded forums. For example, if a member is a Yamaha guy, he may only reply to posts in Yamaha forums, or even only in posts involving a specific model. I would like to urge any members here who like offering help to others to go beyond participating only in specific forums. Fact is, no matter what make or model the ATV, the mechanical principals that make these machines function are pretty much the same from one machine to another. Sure, it is nice to have people who know alot of things about one particular machine, but just because you are a Honda or Kawasaki guy, doesn't mean that a Suzuki or Yamaha owner couldn't benefit from your input. Don't be afraid to try and offer help to someone who is having problems with a machine you know little about, motors are motors, gears are gears, if you are mechanically inclined, you may be able to help more than you think.


By Admin

Every thread has the ability to have a LINKBACK :
Please read: http://www.quadcrazy.com/atvforum/misc.php?do=linkbacks
Try it out!