Do you own an ATV? Join our Forum!

As a member, you can post in our forums, upload your photos and videos, use and contribute to our downloads, create your own member page, add your ATV events, and even start your own ATV club to host your own club forum and gallery.  Registration is fast and you can even login with social network accounts to sync your profiles and content.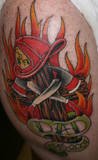 ---
Similar Topics

Similar Tagged Content

By toonces

My mother has just developed a fairly serious case of sciatica, which is a condition where you have some serious leg pain as the result of a pinched sciatic nerve. One of the exercises she does in physical therapy is simply the therapist holding onto her foot and pulling away from her hips as she lays on her back on a table. To replicate this exercise at home they have recommended an inversion table (where you turn upside down and hang from your feet), but since she's not too keen on this idea I'm trying to figure out how to replicate this exercise...which is where the idea of a remotely operated winch comes in.
I don't really have a wide range of knowledge when it comes to what equipment is out there that can help me accomplish this goal, but I'm not too shabby at designing things and since I just installed a superwinch on my grizz this is the first idea I've come up with.
Basically I'm imagining using some kind of winch whose rope would be worked through a pulley system that would end attached to a shoe which Mom would put on, lie down and use the remote switch to gently stretch the leg.
- Winch (if an ATV winch) would be powered by a 12v car battery hooked up to a trickle charger
- Safety mechanisms would include...
- a light switch dimmer inline between the 12v battery and the winch so speed can be adjusted.
- possibly using one of those stretchy rubber exercise resistance bands in the line segment to regulate and ease the pulling
- a remote power cut off switch paired with the remote 'in/out' switch
Honestly I could just go ahead and make this system myself, and I'm fairly sure it would work, but I thought I'd bounce this idea off a mechanically minded community to see if there are any ideas how I could improve on the design.
Since I'm only familiar with ATV winches at this point that's what I've imagined using. But if anyone is aware of a 110v based winch that would be more appropriate, that would surely help in simplifying powering the system since it'll be located indoors. Only requirement for the winch would be that it would need both an in and out function operated by a remote switch. And since the winch would only need to pull between 10-20 lbs it wouldn't need to be nearly as beefy as the ATV type.
Sorry for the long write up here but I'm certainly glad for your time and open to your opinions and suggestions.


By NEWACRIDER

I recently had this sent to me... I am posting it here for all the mom riders and daughter riders...
Recently I overheard a mother and daughter in their last moments together at the airport. They had announced the departure.
Standing near the security gate, they hugged and the mother said, "I love you and I wish you enough". The daughter replied, "Mom, our life together has been more than enough. Your love is all I ever needed. I wish you enough, too, Mom".
They kissed and the daughter left. The mother walked over to the window where I was seated. Standing there I could see she wanted and needed to cry. I tried not to intrude on her privacy but she welcomed me in by asking, "Did you ever say good-bye to someone knowing it would be forever?".
Yes, I have," I replied.
"Forgive me for asking, but why is this a forever good-bye?". "I am old and she lives so far away. I have challenges ahead and the reality is - the next trip back will be for my funeral," she said.
"When you were saying good-bye, I heard you say, 'I wish you enough'. May I ask what that means?".
She began to smile. "That's a wish that has been handed down from other generations. My parents used to say it to everyone". She paused a moment and looked up as if trying to remember it in detail and she smiled even more. "When we said , 'I wish you enough', we were wanting the other person to have a life filled with just enough good things to sustain them". Then turning toward me, she shared the following as if she were reciting it from memory ..
I wish you enough sun to keep your attitude
bright no matter how gray the day may appear ..
I wish you enough rain to appreciate the sun even more ..
I wish you enough happiness to keep your spirit alive and everlasting ....
I wish you enough pain so that even the smallest of joys in life may appear bigger ....
I wish you enough gain to satisfy your wanting ....
I wish you enough loss to appreciate all that you possess ....
I wish you enough hellos to get you through the final good-bye.
She then began to cry and walked away.
They say it takes a minute to find a special person, an hour to appreciate them, a day to love them but then an entire life to forget them.


By Guest Fox300exchic

A father passing by his son's bedroom was astonished to see that his Bed was nicely made and everything was picked up. Then he saw an envelope, Propped up prominently on the pillow that was addressed to "Dad." With the Worst premonition he opened the envelope with trembling hands and read the letter.
Dear Dad:
It is with great regret and sorrow that I'm writing you. I had to elope with my new girlfriend because I wanted to avoid a scene with Mom and you. I have been finding real passion with Stacy and she is so nice. But I knew you would not approve of her because of all her piercings, tattoos, tight motorcycle clothes and the fact that she is much older than I am.
But it's not only the passion - Dad, she's pregnant. Stacy said that we will be very happy. She owns a trailer in the woods and has a stack Of firewood for the whole winter. We share a dream of having many more children. Stacy has opened my eyes to the fact that marijuana doesn't really hurt anyone.
We'll be growing it for ourselves and trading it with the other people that live nearby for cocaine and ecstasy. In the meantime we will pray that science will find a cure for AIDS so Stacy can get better. She deserves it. Don't worry Dad. I'm 15 and I know how to take care of myself. Someday I'm sure that we will be back to visit, so that you can get to know your grandchildren.
Love,
Your son John
PS. Dad, none of the above is true. I'm over at Tommy's house. I Just wanted to remind you that there are worse things in life than the report card that's in my center desk drawer.
I love you.
Call me when it's safe to come home.


Recently Browsing

0 members

No registered users viewing this page.