Do you own an ATV? Join our Forum!

As a member, you can post in our forums, upload your photos and videos, use and contribute to our downloads, create your own member page, add your ATV events, and even start your own ATV club to host your own club forum and gallery.  Registration is fast and you can even login with social network accounts to sync your profiles and content.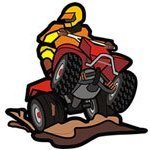 Chad Wienen Victorious at 2020 Daytona ATV Supercross
---
Similar Topics

By flyinbrian365

View File 2020 Polaris RZR Pro XP Turbo Service Manual
2020 Polaris RZR Pro XP Turbo Full Service Manual
Submitter flyinbrian365 Submitted 05/15/2020 Category Polaris UTV  


By Gunny

It was a sad day back in March, but now, my Tracking season has ended ... sigh .... I hope to get some surgeries done soon (damn virus thing) so I can heal up & get back to tracking in the 2020-2021 Tracking season.
ANYWAY, I put together a short video of my 2019-2020 Tracking season. I hope you enjoy it ... Stay Safe !!!
 
 
 
...


By Darcie Foley

Hello all. New here. I made a boo boo that the dealer wants no part of so I'll just suck it up and pay for the damages I did. Was moving some electrical connections to take from plastics off and thought I had taken the neg cable off the distribution block but I took a positive off. It was kinda dark and I know should have taken the battery cable off first. Dumb mistake on my part. Any how when I took the winch positive off the block the main hot cable came off too and touched the frame around block. I have no power to anything and a chassis relay clicking fast and no power to display or anything else. Any idea what this could be. Charged battery and tried that hoping it was that. But nope. Unfortunately. Thanks in advance people. 


By Gunny

Hope you enjoy the video ...
 
 
...


Recently Browsing

0 members

No registered users viewing this page.