Do you own an ATV? Join our Forum!

As a member, you can post in our forums, upload your photos and videos, use and contribute to our downloads, create your own member page, add your ATV events, and even start your own ATV club to host your own club forum and gallery.  Registration is fast and you can even login with social network accounts to sync your profiles and content.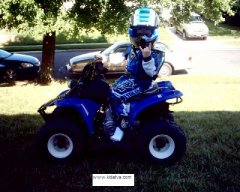 ---
Similar Topics

By Asen_77

Hi All,
My name is Asen and I am from Eastern Europe, Bulgaria. Riding a Yamaha Raptor 700R and this is my first Quad wanted for a vey long time :)

 


By 06kfx440

It's been a pleasure serving all of you. I can not ride anymore. My illness has turned to the worst and I can barely walk anymore. I will still be here helping where I can. I might just get an oddsey and work the sh!t out of it. But I'm done. I didn't want to be in this situation. But I have to take it. It's been so much fun here guys!
 
 
Sent from my iPhone using Tapatalk


By James Jezewski

Hey everyone! New to ATVs, hoping to learn a bunch off this site.


By oxidized_black

Yamaha ATV manuals are located in the downloads section here at QUADCRAZY.
Please visit the downloads section at https://www.quadcrazy.com/files/
Get 15% at emanualsonline.com with coupon code EMOAFF
Get 20% at emanualsonline.com with coupon code BLAZE and $50 purchase
Clymer ATV Manual - Yamaha Raptor 700R
 


Similar Tagged Content

Recently Browsing

0 members

No registered users viewing this page.