Join Today, It's Simple and FREE!

As a member, you can post in our forums, upload your photos and videos, use and contribute to our downloads, create your own member page, add your ATV events, and even start your own ATV club to host your own club forum and gallery.  Registration is fast and you can even login with social network accounts to sync your profiles and content.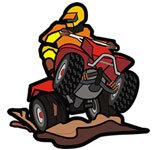 ---
Similar Content

By quadcrazy

This video was submitted to the QUADCRAZY Video section by drew.
Description of Video: ATV Mudding YoutTube
Video Tags: mud
http://www.quadcrazy.com/video/video/&v=120653888388


By mywifeknowseverythin

<embed src="http://www.metacafe.com/fplayer/482462/dangerous_dog.swf" width="400" height="345" wmode="transparent" pluginspage="http://www.macromedia.com/go/getflashplayer" type="application/x-shockwave-flash"></embed><br/><font size="1"> <a href="http://www.metacafe.com/watch/482462/dangerous_dog/">The Hole - video powered by Metacafe</a></font>


By chopper400ex

I haven't seen any posts on Chinese quads in here. I just test rode a prototype for Jetmoto it's there new 200cc and 250cc. They are pretty sweet for a low priced atv. I have tested the 200's from the first one they brought over to this one that there is only a couple in the states. I just wanted to see if your was any opinions on the Chinese machines.


Recently Browsing

0 members

No registered users viewing this page.