Join Today, It's Simple and FREE!

As a member, you can post in our forums, upload your photos and videos, use and contribute to our downloads, create your own member page, add your ATV events, and even start your own ATV club to host your own club forum and gallery.  Registration is fast and you can even login with social network accounts to sync your profiles and content.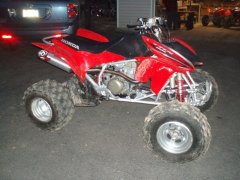 Need help with ps3 online name
---
Similar Topics

Similar Tagged Content

By Admin

You may have been wondering what has been going on with QUADCRAZY.com this week. Nothing but message errors saying that the site is down. Yes, we have been down all week, since last Sunday morning.
In a nutshell, our server where QUADCRAZY.com resides, had a fatal hardware malfunction Sunday morning. The hard drive crashed and up until now, has been mostly unrecoverable. Fortunately, we were able to revert to a backup of our site that we had. The backup however was also incomplete and from an earlier date, so we opted to wait and do our best to recover ALL the data, up to the point of failure.
We are confident that this has now been done to the best of our ability and have decided to open QUADCRAZY.com back up.
We have extended the January ATV Photo Contest into February andis now the January/February ATV Photo Contest.
We apologize for the inconvenience and hope that you missed the community while it was down.


By Sparrows

and i have no friends on psn! anyone have this? :laugh:


By Admin

The company that manages the server that stores all the information for QuadCRAZY.com had a serious hardware crash. The site was down for over 12 hours and allot of the information that runs this site was lost. We were lucky enough to restore a 95% back up from 05/07/2007. This leaves us now with about 2 1/2 weeks of information that is not recoverable. We have done our best all day today to try and recover from this disaster.

Due to the malfunction with the server, any users that have registered after 05/06/2007 will need to register again. This affects about 25-30 new members. We have lost all data after this date due to the server crash. This includes any changes, uploaded media, forum topics, etc...that was added to the site after 05/06/2007. So, if you have made any changes or added anything to the site, it will not be here and will need to be input again.

We apologize for any inconvenience this has caused anyone.

You can also e-mail us at

[email protected]

if you need further assistance.

Recently Browsing

0 members

No registered users viewing this page.