Do you own an ATV? Join our Forum!

As a member, you can post in our forums, upload your photos and videos, use and contribute to our downloads, create your own member page, add your ATV events, and even start your own ATV club to host your own club forum and gallery.  Registration is fast and you can even login with social network accounts to sync your profiles and content.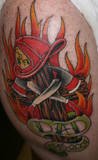 ---
Similar Topics

By Chase Cook

Hi I just got an Polaris sportsman 500 4x4 ATV the other day. I got it real cheap but I started to go into it because it didn't have compression so I bought a new piston and ring kit for it and installed it, but now when I try to start it all it does is shoot fire out the exhaust or the intake of the carburetor. And a timing is top dead center.;I think I can't really tell another way if it is or not. when I put it together I made sure to piston was on top and the cam lobes where facing down where are the cam sprocket is facing up. It has gas and spark. It did start a couple minutes ago but it didn't stay running and now it won't start. Do you think the valve need to be adjusted more to close better?I'm fixing to try that out and if that don't work what is the problem? Also I made sure everything was together good and right and change the oil and changed out the radiator fluid.


By spock58

I was reading another forum recently about fuel leaks and possibility of fire happening. Reminded me of an incident I had a few years ago while working at a Can Am dealership. The quad was a stolen & recovered Outlander 650 that had been tampered with. These quads have an electronic safety system, similar to their DESS system on the sleds. You cannot bypass the key switch and get spark without a computer with factory software. Anyway, I was trying to determine what was damaged since the thief had attempted to hot wire various electronic parts. I got all the extra wires removed and things looked back to stock. Pulled the spark plugs and was going to check for ignition and if the starter still worked. Well, they both worked alright and guess what - the cylinder was flooded with fuel! Instant flames with gas spraying all over...great!! I managed to use my hands to put out the fire, good thing I had on gloves (but choked they were ruined of course, haha). Seems it's possible to flood an engine with efi when you put power straight to the injectors, doh! As in much of life, you cannot take things for granted (I'd only seen carbs flood like that). And even though it had spark, the quad still needed a new ECM to run - that part alone was $1200. So lets hear your stories, crazy stuff happens every day I'm sure.


By Sonders

Hey all, I recently bought an 01' Sportsman 500 HO from my brother in-law that he's had since new.  It runs awesome, just has 2 slight issues that I am addressing.  1st issue is fuel dripping out of overflow.  I did some searching around and saw that the O-rings in the carb wear out and allow fuel to leak, so I replaced both the Orings inside the carb.  This didn't fix it and still leaking which leads me to believe the float needs adjusted, I'm just not sure on correct way to check and correct this.  2nd issue is no speedometer.  Also in researching this it appears to be Hall Effect/speed sensor.  I'll be ordering one of those to replace, which sounds like a pretty straight forward process.  I guess really my only reason for the post is to get some help on the gas leak issue.  Any thoughts?  Other than that, I love the bike and really enjoy riding it.  Thanks in advance for any replies.


By Gunny

Hope you enjoy the spring time Tracking video !!
 
 
 
...


Similar Tagged Content

By TreadLightly

For the sake of consolidation... Here's a nice place to post Trail Work and Area Clean-up Volunteer opportunities.

If you're interested in me posting a volunteer opportunity in your area on other forums, please feel free to send me details (where, what, who to contact).

[email protected]

Also, a reminder that if you are a partner/member club or a 3-year individual member, you qualify to apply for our stewardship grants to help fund these projects. Stay tuned to the Stewardship Grants thread, or have a peek at the website: Tread Lightly - Stewardship Grants

Thanks. And feel free to post up your own stewardship projects here as well

By ATVgirl

WE ARE NOW LOOKING FOR THE BIGGEST, BADDEST BIKES IN THE LAND!

YOU WILL NEED TO BE ABLE TO HAVE YOUR BIKES OUTSIDE

ORLANDO AROUND THE END OF MAY MIDDLE OF JUNE.

IF YOU ARE ABLE TO DO THAT AND YOUR BIKE IS PICKED IT WILL

BE PUT IN OUR FIRST ANNUAL PHOTO SHOOT/ CALENDAR

WE ARE IN THE NEED FOR SPONSORS ALSO

WE HAVE IT SET UP SO THAT EACH BIKE CHOSEN WILL HAVE THE

OWNERS NAME ON THE PAGE IT APPEARS AND WE ARE WORKING

VERY HARD SO THAT HALF THE PROCEEDS MADE OFF THE CALENDAR

WILL BE DONATED TO CHARITY!

IF THIS IS SOMETHING YOU ARE INTERESTED IN

EMAIL ME YOUR BIKES INFO AND A PICTURE TO

[email protected]

IF YOU ARE NOT CHOSEN FOR THE SHOOT YOU MAY BE

IN THE RUNNING TO HAVE YOUR BIKE AND YOUR INFO ADDED TO OUR NEW UPCOMING WEB PAGE!

good luck

Check out our other events at www.thedirtygirls.net

www.myspace.com/eastcoastdirtygirls

ATVgirl:biggrin:

Recently Browsing

0 members

No registered users viewing this page.