Join Today, It's Simple and FREE!

As a member, you can post in our forums, upload your photos and videos, use and contribute to our downloads, create your own member page, add your ATV events, and even start your own ATV club to host your own club forum and gallery.  Registration is fast and you can even login with social network accounts to sync your profiles and content.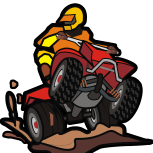 ---
Similar Content

By Guest Fox300exchic

If you dont have a bead breaker and dropping $70 or more to get one doesnt fit your pocketbook, there's still hope. Whether you're trying to dismount the tire for repair or it's simply time to replace those old tires, this trick can help. Get a 2x4, 2x6, or even a 4x4 piece of wood that is about three to five feet in length and then pull the valve core out of the tire's valve stem. Wedge one side of the board under the front side of a truck like a ramp leading up onto your quad's tire. Make sure the edge of the board is just in front of the rim. Stand on the rim with one foot to keep it from moving and guide the driver of the vehicle slowly up the ramp. When places right, th weight of the truck will break the bead. Flip the wheel over and repeat on the other side. If the board slips down the tire without breaking the bead, have patience and slowly repeat the process until you succeed.
QUAD off-road magazine


Recently Browsing

0 members

No registered users viewing this page.