Do you own an ATV? Join our Forum!

As a member, you can post in our forums, upload your photos and videos, use and contribute to our downloads, create your own member page, add your ATV events, and even start your own ATV club to host your own club forum and gallery.  Registration is fast and you can even login with social network accounts to sync your profiles and content.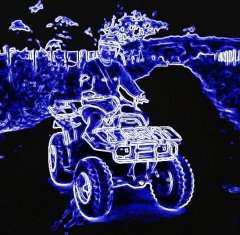 ---
Similar Topics

By Michael Kastanis

Hey I have a Kawasaki 300 boyu and it die in 5 gear and can't get in Neutral try rocking it and moved it back and forth but nothing can same one here help me pls



By Brother Buddy Gardner

Hello everyone! I recently purchased this quad for a mere 300.00 and it is pretty clean for the year. I bought it from a guy who bought it in a storage unit. He didn't know anything about it. I got it home and noticed it did not have an ignition coil for the spark plug. I bought the ignition coil, a new battery, new CDI box, new starter relay, new safety neutral relay, new carb and so on... I got it to turn over, but when I pull the plug and check for spark I have nothing.. it has a non factory starter button that works when I push it and turns the engine over no matter if the key or stop switch is on or off..not sure what that's all about, but it does turn over..just no spark at the plug. Any help would be greatly appreciated! Thanks!


By izoneterror

hello guys i have another question my klf 220 jumps straight into reverse without turning the leaver this concerns me because i dont want to knock it down into revers when going at a decent speed any advice  why this is doing this and how i can fix it ?


By Michael Rogers

Anyone ever replaced the shifter shaft on one? Not sure on the year but assuming it is in the late 90's. Is it a huge task, splitting the case etc... thinking about buying it as my next project.
 
Thanks


Similar Tagged Content

By freforall

Hi i have a honda 350es 2002 4x4 (same as rancher but canadian edition). My problem is the clock and trip meter always resetting when i power off the bike. The trip meter reset to 0.0 and the clock flashing 1:00. The other function work normally gear shift, hourmeter and odometer. If i power off the bike for approx 2-5 seconds the clock and trip meter didnt reset. The battery is ok and all the fuse is ok. Can someone help me with this problem please. I found anything in my service manual.
thanks


By fastf3

Hi all! I would like to install a volt meter on my KQ 700 is it as easy to pick up one at my nearest auto parts outlet? For car/truck would work the same? Sorry not exactly sure, would really like to purchase one tomorrow instead of waiting the two or more weeks for it if I order one on line and would I just run both wires from the battery or is there somewhere else that is best to run both wires thanks in advance for your help!


Recently Browsing

0 members

No registered users viewing this page.