Join Today, It's Simple and FREE!

As a member, you can post in our forums, upload your photos and videos, use and contribute to our downloads, create your own member page, add your ATV events, and even start your own ATV club to host your own club forum and gallery.  Registration is fast and you can even login with social network accounts to sync your profiles and content.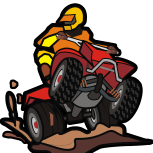 ---
Similar Forum Topics

Similar Tagged Content

By Gunny

Out do'in some Pre-Mother's Day Rid'in !! WOO HOO !! Went out to 5 Mile Pass and headed to the small mining town of Eureka to refuel (not that I needed it) & to get a burger. Saw a few Jack Rabbits & no people (except by the truck) until I got to Eureka.
When I got to Eureka, there was a large group of photographers taking a lot of different photo's of women. Not sure if it was to promote Eureka, or for some fashion magazine ??
Remember, watch it at 1080p.
[ame=http://www.youtube.com/watch?v=O7d-HQ6Krr0]11 May 2013 - 5 Mile Pass to Eureka - YouTube[/ame]
...


By RockyMountainATV

I know it's all ATV's here, but here's our first video showing some of our guys getting ready for their 2,000 mile round trip ride to LA Supercross and back. It will definitely be a tough, but fun ride. If it goes well hopefully we'll keep making these videos for people to check out riding areas, and trails. It will be cool to test out some products and give reviews from the trail too!
Check it out and let me know what you guys think,
[ame=http://www.youtube.com/watch?v=cTvGpr97n6Q]Far from L.A. Rocky Mountain ATV/MC Ride[/ame]


By dieselpowered

I was just playing around on the net and found this...not sure if it works, however, seems like a pretty cool idea. Anyhow, it is basically like a Netflix or Blockbuster online, but you make money on other people who rent under your account.
Anyhow if you want to signup...it is free, just go to http://atvwire.e3flix.com and click on become an affiliate. Its free...once you have signed up, promote your personal e3flix webpage and see what happens??


Recently Browsing

0 members

No registered users viewing this page.