Do you own an ATV? Join our Forum!

As a member, you can post in our forums, upload your photos and videos, use and contribute to our downloads, create your own member page, add your ATV events, and even start your own ATV club to host your own club forum and gallery.  Registration is fast and you can even login with social network accounts to sync your profiles and content.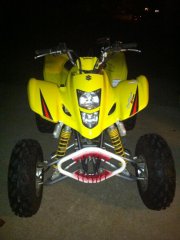 ---
Similar Topics

By PKR

Neighbor dropped off his 2010 Ranger 400 HO. Said it was missing and backfiring. I replaced the plug as it was carboned up (kids use the side x side for chores and it is only idled around yard) Unit ran great, sent back home and it ran great for about 5 hours of run time and then it wouldn't start. He brought it back and I changed the plug again and it would start but would not run great. Pull plug and it was really wet. I suspect the carb needs cleaning and that is the direction I plan on going unless someone else knows anything about these units. ( I have never worked on one of these).
If you know of something else I should check let me know.
Also I am looking for a service manual for this unit.
Thanks
PKR


By Mike Hooper

Hi everyone! I'm from New Zealand, and doing up a Suzuki Lt50 for the kids. This is the first bike I've ever worked on, and it's currently not running. Hoping that both Google and this forum will get me through! Haha



By bradleyheathhays

I have an '02 Taurus with 85k miles on her that I just bought.  Today when I was checking something under the hood I noticed this metal line cold and dripping with water...
 

 
I had the air on but turned to the position of arrows pointing out of the dash and floor vents only.  The defrost or a/c function was not selected.  It seems to be doing it consistently.  I haven't traced all the parts of this car's a/c system yet but I don't know of anything else under a hood that turns cold and sweats.  Why would my compressor be working when it's not selected?  What tests should I run?
 
 
 
 


By Cj Winds

I have a 2000 Polaris Xplorer with the 250 two stroke motor
It does not want to start with the electric start, the motor cranks fast, the battery is good, and there is good spark when cranking. The engine starts perfect when using the pull cord, it even starts if I pull the cord slowly and starts with one pull. The engine idles smoothly once started. My wife says she needs the electric start to work.
 


Similar Tagged Content

Recently Browsing

0 members

No registered users viewing this page.