Join Today, It's Simple and FREE!

As a member you can post in our forums, upload your photos, use and contribute to downloads, create your own member page and more! Registration is fast and you can even login with social network accounts to sync your profiles and content.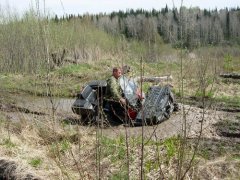 For sale is my 06 Polaris Sportsman 700 EFI
---
Similar Content

By ladykingquad

I need some advice on my 700 kingquad. I recently went out into some deep water (not sure if this is the issue or not) I did not submerge past the seat all the way, however I did wheelie out of it with the back end submerged for 5 seconds. I realized after I did this that you could hear the engine going up in rpm's but there was no power to the wheels after a point. You could only hear the whailing of the engine. Could someone lead me in the right direction... basic knowledge would be to check air filter, belt housing for water, spark plug. Otherwise I am at a loss. Thanks in advance!


By Guest Fox300exchic

If we had a dollar for every time the question "Which is really faster, the 700 or the 450?" shows up in our inbox, mailbox, or voicemail, we'd be putting this magazine together from a bungalow on a barely inhabited tropical isle named Quadhama.
http://www.quadmagazine.com/quad/features/article/0,24942,1603755,00.html


By bradleyheathhays

I'm going to check the valve clearance on my 2011 Grizz 700 for the first time and I'm also wanting to check the timing, but I'm not sure how to do it. What tool (light gun?) do I need for this job and how is it done?


By ut1w7b

I have a 94 sportsman 400. It sat for several years before i got it. I have cleaned the carb it will start and run for about 5 min then it will flood. I have torn it down and cant see anything wrong. has anyone else ran into this problem any hel would be great.


By buzzar56

I am looking for a free repair manual for a 2003 Polaris sportsman 500 ho atv. all the posts on here lead me noplace
thanks fred.


Recently Browsing

0 members

No registered users viewing this page.