Join Today, It's Simple and FREE!

As a member, you can post in our forums, upload your photos and videos, use and contribute to our downloads, create your own member page, add your ATV events, and even start your own ATV club to host your own club forum and gallery.  Registration is fast and you can even login with social network accounts to sync your profiles and content.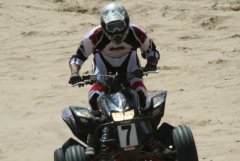 ---
Similar Forum Topics

Have you checked out our new fluid view for our forum? It'll give you a list of the latest topics on the home page instead of the the traditional/classic forum categories. You can switch back and fourth from fluid to classic views by clicking on the buttons on the top of the forum...  

By Admin, in Announcements/Support

©2009 by Del Albright, Use freely given by Permission Only, All Rights Reserved. Page 1 View from the Locked Gate A bit of sarcasm about an access lesson By Del & Stacie Albright, BlueRibbon Coalition The gal in uniform with the big gun on her hip smiled and waved as she installed the recessed pad lock on the gate. I guess she thought we were happy about the road being closed. Her rugged 4x4 government‐bought pickup truck that was kinda parked in our view had all sorts of signs and decals declaring she was a public servant. We figured it must be true. She had sent us an official‐looking letter a while back asking for comments, but the fish were a'bitin' so we missed out on the letter‐writin'. We figured someone else would write those darn letters. We figured wrong on all accounts. It was a heck of a view we had – trees, rocks, trails, roads, wildlife, mountains, creeks, and vast open areas beckoning to the adventurer in all of us. It's easy to recall my Dad, Elmer, telling stories of roaming this kind of back country area 40 years ago with the freedom of a jack rabbit in the Mojave Desert. He always told us to get outdoors and have fun while taking care of the land. He figured we would all have the same freedom. He figured wrong. The ability, and most importantly the opportunity that my dad had to take his kids out and teach us how to fish, hunt, hike, play and breathe in the fresh air is all but gone now. My mind wanders off and I think of what can happen if we continue down this dangerous path of management by closure. Soon it will be just a happy memory of our nine year old when she was able to see nature, hike, take pictures and jump in and out of our 4 wheel drive while we were on the hunt for a new camp spot. Soon she will not have the opportunity to teach them the same lessons and family traditions that came naturally and innocently in her youth to her tots. Our view now is tainted, to say the least. Padlocks, iron pipe, closed signs, reinforced hinges, and small‐print letting us know under no uncertain circumstances that the land beyond the gate is CLOSED to access – unless of course you want to haul your buns in there via boot rubber. Now, as I stand here watching that same gal in uniform jump back into her four wheel drive (that I paid for) and drive on down my old favorite trail I get a lump in my throat and I get a little teary eyed just thinking about the view our kids are going to have from this same locked gate that's in my backyard. I don't think I'm figuring wrong anymore. Article: View from Locked Gate Back to the future: in reality, there are things we can all do to prevent this (sarcastic) scenario from happening. You've read tons of articles on getting involved, joining groups like BlueRibbon Coalition, and ensuring your family and friends have a place to ride. Just do it. Visit Land Use, Access and Rubicon Trail Home Page by Del Albright including Volunteer Training and Outdoor Photography and BlueRibbon Coalition: Preserving your recreational access to public lands. for more things you can do right now. Make a difference and help prevent closures from blocking our "view" any more. Join up, donate and get in the game. Please, before we have nothing left to figure on... The BlueRibbon Coalition is a national recreation group that champions responsible use of public lands and waters, and encourages individual environmental stewardship. It represents over 10,000 individual members and 1,200 organization and business members, for a combined total of over 600,000 recreationists nationwide. 1‐800‐258‐3742. BlueRibbon Coalition: Preserving your recreational access to public lands.

By ATVsToday, in ATV Laws, Legal Issues, and Policing

Similar Tagged Content

By Stoopidbot1

When we first got the package, we thought it seemed really heavy. After taking the TigerTail out of the box, we determined it's really not that heavy compared to most winches and tow systems you can get out there and it seemed to be extremely well built. It has to have some weight to it, to be able to do it's job! The Rhino is not only a fun means of transportation, it is also our recovery vehicle at  races, and any time someone finds their limits in the mud. So, we immediately took it out to the garage to go put it on the Rhino.

When we first  looked at the set up we thought, "This will be interesting to get a wrench between the spool and the bottom mounting plate." But to our surprise they covered this, the bolts have a collar which drops into the bolt hole and holds it in place. All it took was one wrench on the bottom nut. This process took maybe five minutes. The unit easily slides right into the receiver. At this point the only down fall I have seen was, it does not come with a pin to hold it in the receiver, I was required to buy an additional one. Not a big deal but a tiny inconvenience.
Eager TigerTail to try out the, we headed out to a local ride spot to test it out. Lucky for us as we were unloading the toys when someone in an Isuzu Trooper, not meant for the mud, found a mud hole. He managed to bury his front end in the peanut butter-like slop up to the bumper. With the rear tires barely clinging to the surface by inches of hard packed dirt, he was not moving. So we thought this could be the perfect time to test out the Tiger Tail and have it be of a little assistance. I backed the Rhino up to his vehicle, and found it takes some slack on the rope before the hook will come out of the holder. As soon as the hook was free, it easily extended and retracted. We hooked it up to the Trooper and I slowly pulled forward to fully extend the rope. This being a heck of a first test for the Tiger Tail, I floored the Rhino, spinning the tires on the hard pack. To my amazement , the Rhino started inching forward and before we knew it, he was out of the slop and on to the hard stuff. We unhooked the Tiger Tail and it went right back into it's housing trouble free.   From what we have seen so far, this is an absolutely amazing product. From the first glance of the Tiger Tail we knew it was well built and well thought out.  We know that it will definitely come in handy out on the trails and the track.  They even put a hole on the main bracket so you can still have a ball for towing on the back of your rig. Great idea! We will definitely recommend it to all of our friends. This is also one of those products that everyone who sees it wants to know all about it.  
All in all, the Tiger Tail is an awesome little product! www.tigertail.us  
Available on Amazon
See the action! The Toughest & Quickest, Tangle Free Tow System for ATVs...Period!
 


Recently Browsing

0 members

No registered users viewing this page.