Sign Up, it's FREE!

Welcome to QUADCRAZY! Use the main menu and search bar to navigate our site. It's always FREE to join our ATV Community and post in our forums, create your own ATV group, share your photos and videos, download manuals, and more. It's easy to get started and you can login with some of these popular social networks.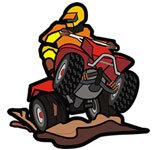 ---
Similar Content

By Admin

if you have had your ATV stolen from you, make sure to post it here at QUADCRAZY by starting a new topic and also on Facebook: Stolen ATV Hotsheet
 


By oxidized_black

Please take a moment and click this link and vote for one of our top members !!
https://www.facebook.com/ActiveJunky?sk=app_451684954848385&brandloc=DISABLE&app_data=chk-530d0c2f6bfb7%2Cview-vote%2Cfor-1989556




By quadcrazy

A milestone for QUADCRAZY, today we had our 10,000th member register! That member was winway, who has taken us over this threshhold. Congratulations to this community and to all of its participating members who make QUADCRAZY a Go To Online ATV destination!


By Guest yokochrist

Okay, guys and gals I have been broken by facebook and created a fan page. Atv related of course, but you can post your vids, pics and stories. I have uploaded a lot of photos on there already, so hope you like and share and enjoy!
Click Here (https://www.facebook.com/pages/Yokochrist/154508834738279?bookmark_t=page)


By ELKASuspensionCorp

Hey guys!
Here is your chance to win a full Stage 3 kit for your ATV!
The product:
Front & Rear Stage 3 ATV Shocks Kit (limited-time only, while supplies last) | Elka Suspension
To participate:
Stage 3 Kit Sweepstake | Elka Suspension
Good Luck!